Al Fresco Summer Brunch with Marcy Braselton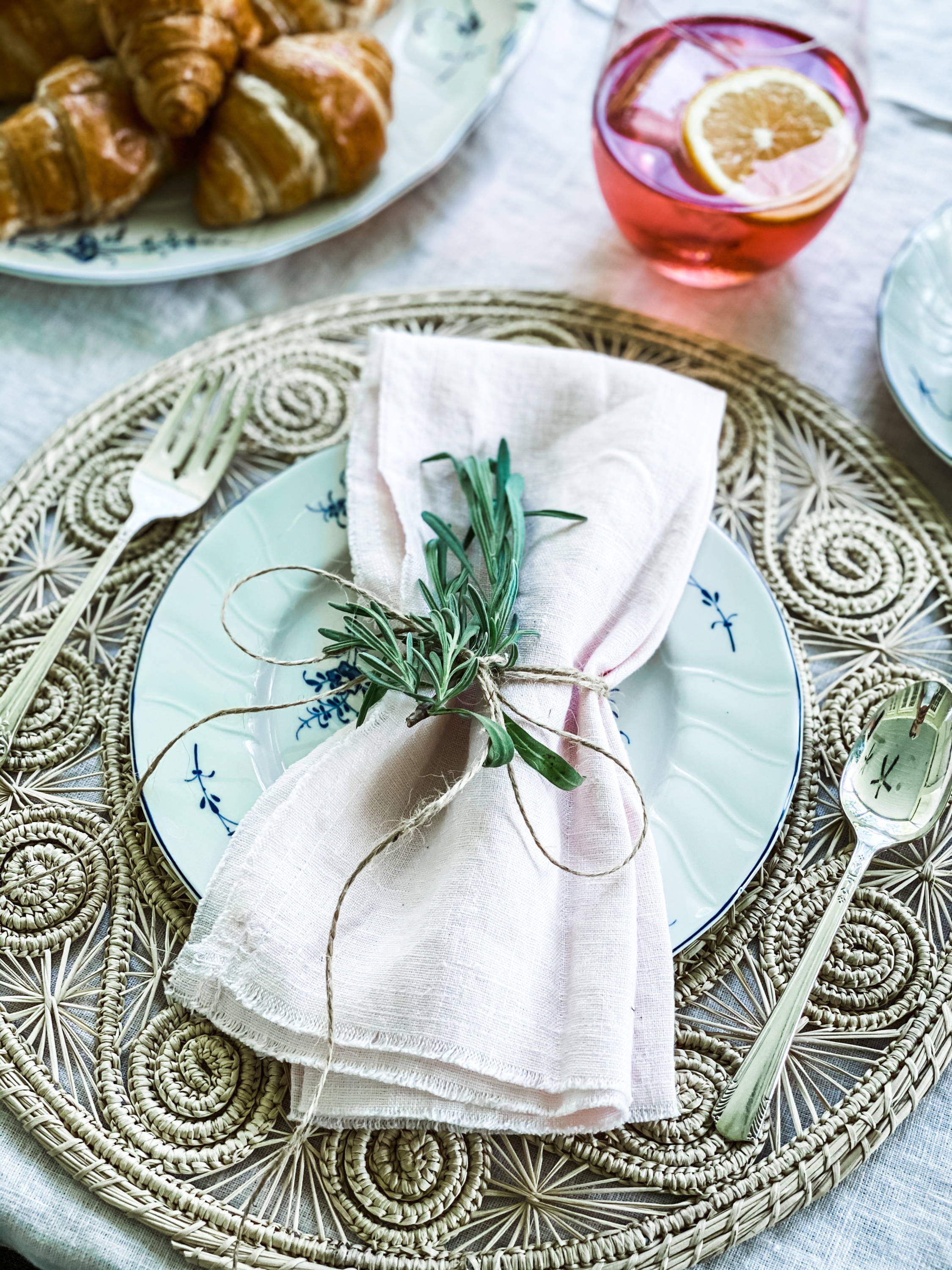 Marcy Braselton founded Community Kitchen as a way to share what she is making, creating, and supporting with others. She learned to cook out of necessity when she and her husband moved from New York City to London in 2001 and found that the food delivery options were virtually non-existent. She dusted off her two cookbooks and enrolled in cooking classes at Books for Cooks in Notting Hill. The rest is history, and now, Marcy fancies herself an imperfect chef. Marcy's mantra is to keep it fresh and simple, to buy local whenever possible, and it's bound to be delicious. Through Community Kitchen, she shares her passion for cooking, drinking, entertaining and hosting. Marcy now resides in Atlanta with her husband, two children, and Goldendoodle.
A beautifully set table is truly a sight to behold, but you do not have to present a fancy, formally set table to make a lasting impression. Simple, special details like handmade napkin ties and fresh, fragrant flowers, herbs and greenery will give your table a personal touch that guests will appreciate and remember. As I set my table for a relaxed al fresco brunch, my style is easy and elegant. I'm not a flashy, formal person and my entertaining style tends to match my personality.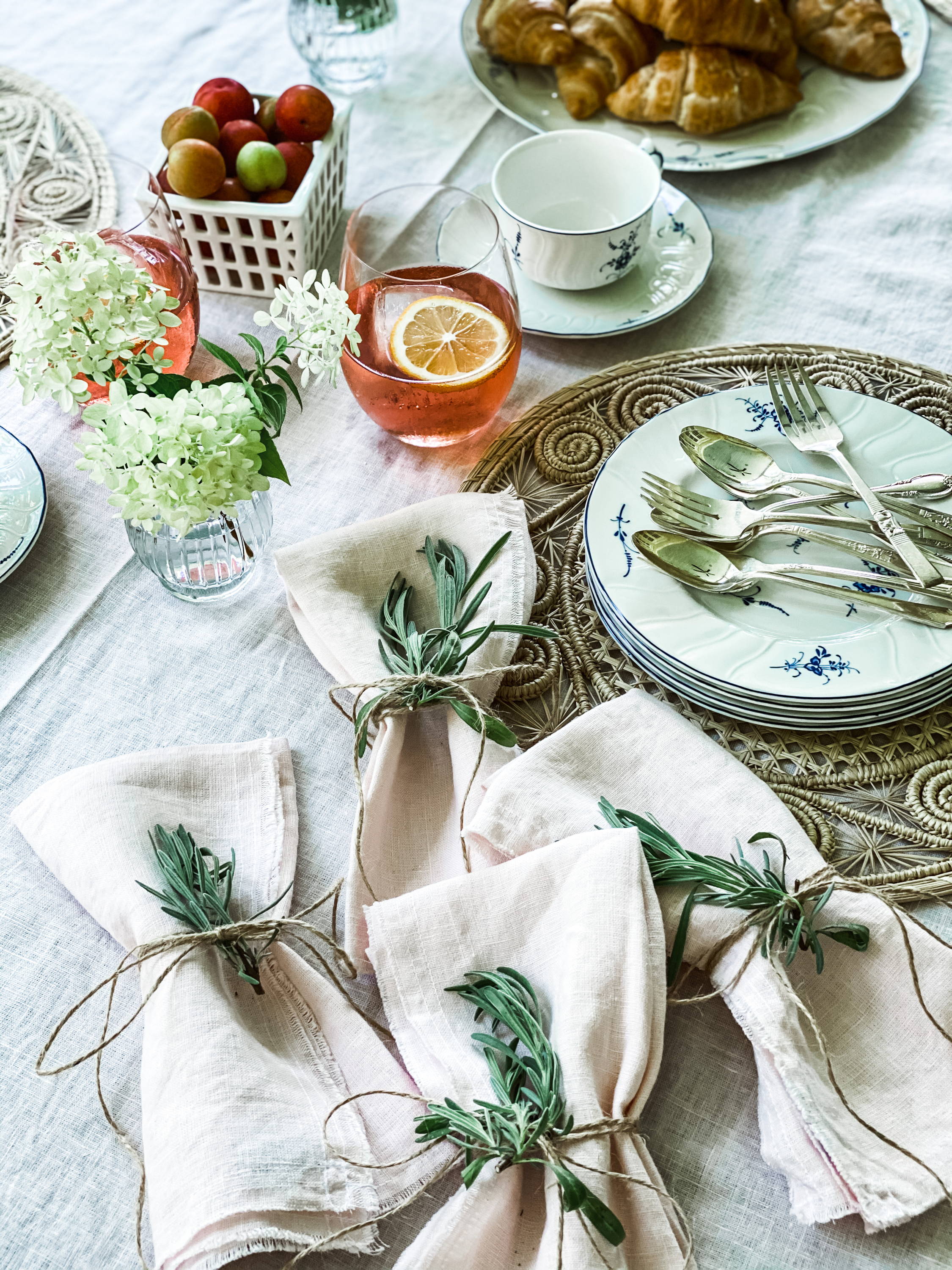 The Table 
The Wild Linen tablecloth and napkins, from the Freshly Set collection, are beautifully woven, soft linen in the prettiest pale pink. Their neutral tone and casual feel are perfect for any outdoor setting. Paired with the Iraca handmade woven placemats, I will build upon these gorgeous pieces to create an elegant, seasonal tablescape.
I love to set a festive mood at my al fresco brunch table with fresh and simple place settings using natural, seasonal materials. I assembled beautiful little bundles using fresh lavender from my herb garden, tied to my napkins with kitchen twine. They smell AMAZING and add a simple, elegant, heartfelt detail to my place settings.  
You don't have to look very far to find lovely, fresh flowers and greenery to adorn your table. More often than not, I clip seasonal blooms from my yard and garden to decorate my table. These lovely limelight hydrangeas were a wonderful addition to my tablescape. Because they were small, delicate blooms, I used small votive candle holders (with a vintage mercury patina) as petite vases to display them.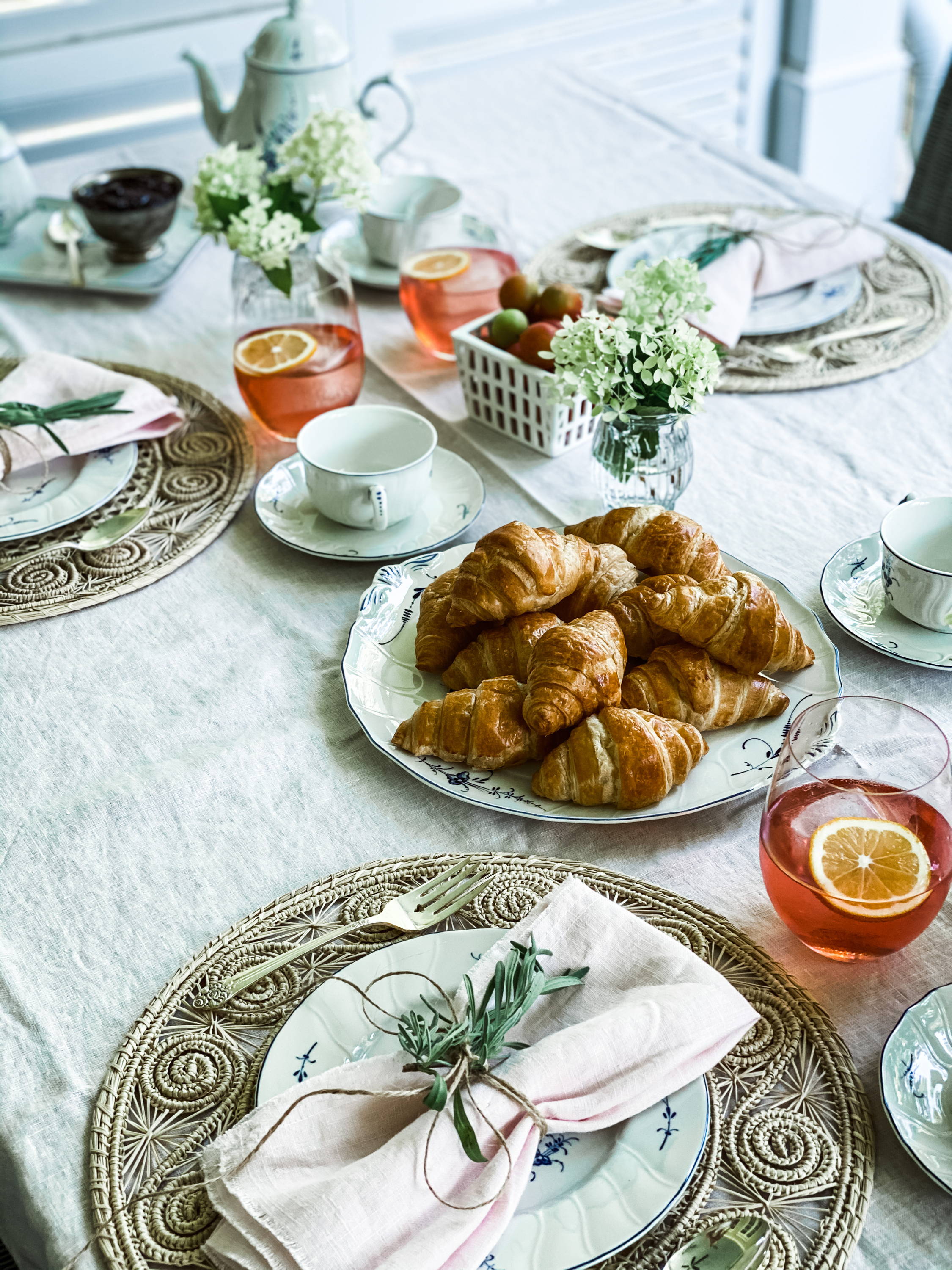 Silverware + Dinnerware 
When it comes to silverware and dinnerware, I go for timeless, not trendy. And, nothing I own is too "precious" to use on a daily basis. I have two children and we love to entertain so I tend to buy unique, beautiful pieces that are also very durable and user-friendly.  
For my al fresco brunch table, I'm using pieces from my collection of mismatched vintage silverware. Over the years, I've purchased inexpensive, vintage flatware while exploring flea markets, antique fairs and consignment shops. Each piece is unique, and I love the vintage character and charm they add to my place settings.  
My Vieux Luxembourg dinnerware from Villeroy & Boch was a gift from my husband after I fell in love with the pattern many years ago during our travels through the English countryside. One of the quaint rural inns we stayed in used this collection in their dining room and for me it was love at first sight. The design is simple, yet elegant and features my favorite color combination…blue and white!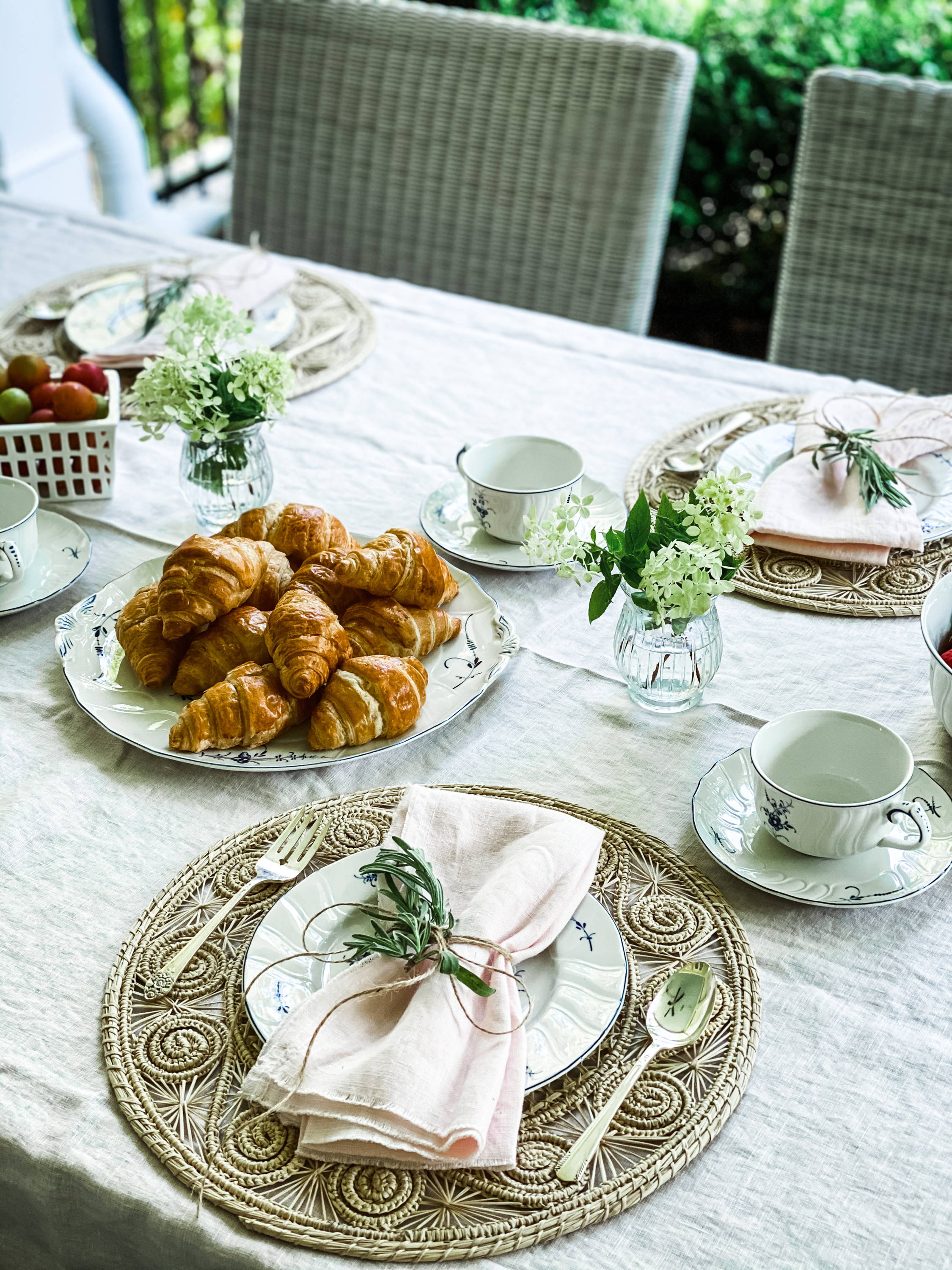 Signature Cocktail 
My #1 tip for entertaining, regardless of the time of day, is always welcome your guests with a signature cocktail. Personally, I love a sparkling wine and when enjoying an al fresco brunch with family and friends, nothing sets the mood like a refreshing glass of bubbly. My favorite seasonal cocktail this summer has been my Summer Sparkler. I start with one large ice cube + add 1 oz elderflower liquor (St-Germain is my fave) + 6 - 8 oz of sparkling rosé wine + garnish it with a slice of Meyer Lemon. The large ice cube keeps your cocktail chilled without watering it down too quickly and the floral essence of the Meyer Lemon compliments the elderflower liquor beautifully. So delicious and refreshing!