Table Talk with Elaine Thompson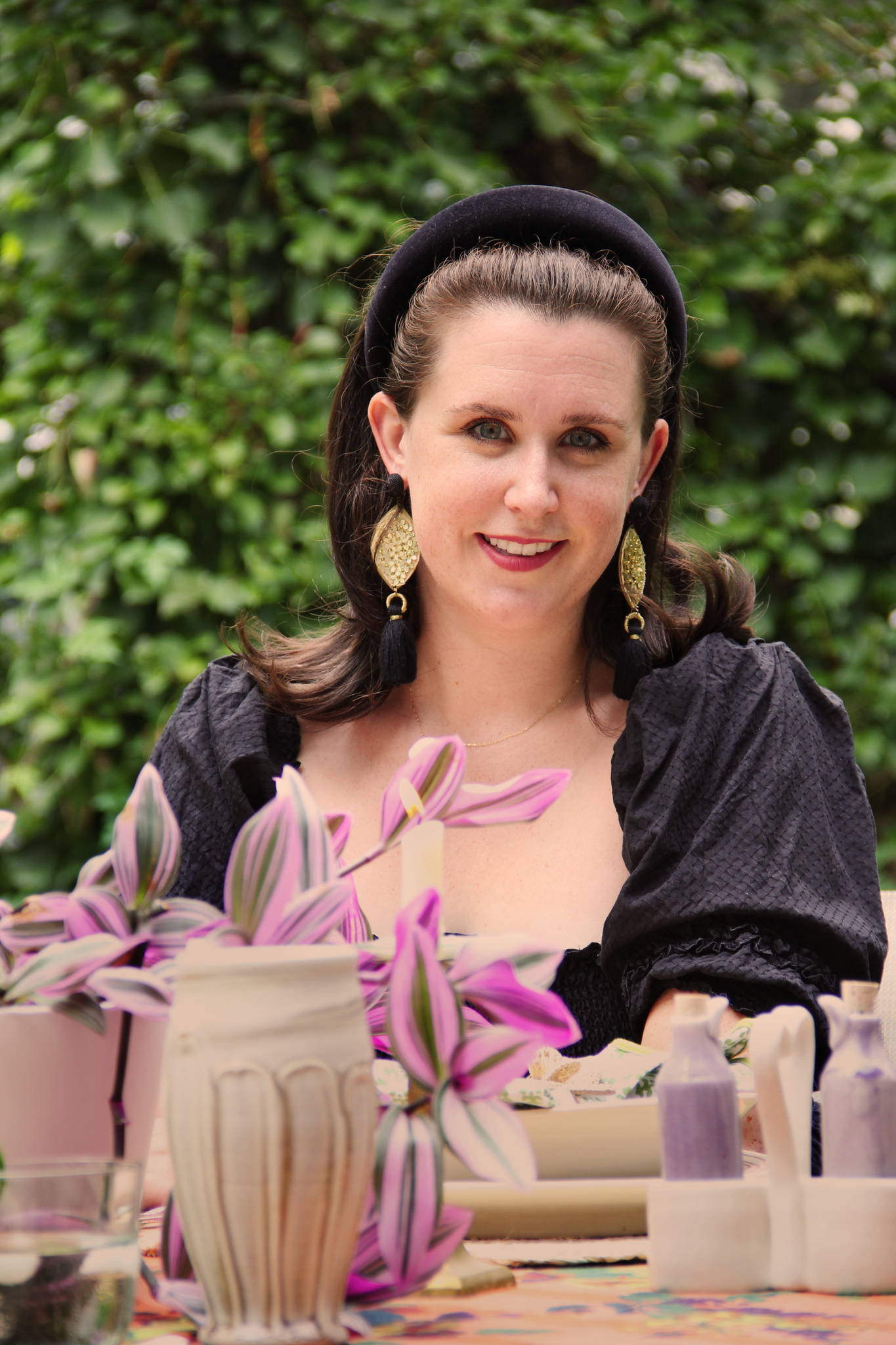 Elaine Thompson is the principal designer and founder of Pistachio Designs, an interior decorating firm based in NYC. With an aesthetic that focuses on clients' personal details - a balance of sentimental favorites and modern heirlooms - Elaine's designs are layered, eclectic yet polished, and most importantly reflect the personality of each of her clients.
As an Interior Designer, what does a typical day look like for you?
I spend the first hour of my work days enjoying a piping hot cup of coffee while either reading, catching up on my favorite podcasts while needlepointing (I'm working on a stocking now!), or journaling. It's the perfect way to lean into the day while carving out time for my hobbies. From there, it's always a balance of managing the admin tasks of being a solo small business owner with the creative to-do's; it just really depends on what stages my projects are in! Recently I've been in a major sourcing phase, so I've been making lots of in person visits to showrooms which is always a fun part of any project. Ideally I try to wrap up work before 7PM and unwind from the day.
What is your favorite part of your job?
I really love the beginning of a new project; when myself and my client are bursting with ideas and inspiration without limitation. My goal is always to channel that initial excitement and enthusiasm throughout the course of sourcing, revisions, installs and styling.
What is inspiring you most right now?  
NYC in the fall is my absolute favorite time of year in the city and leaves me in the best mood; I feel energized, most open to new ideas, and ready for a 'fresh start'. I've been tearing through books - both interiors focused such as, Every Room Should Sing by Beata Heuman - and those completely outside of my comfort zone - like the graphic novel, In by Will McPhail, a New York cartoonist. I've been exploring new to me parts of the city - I just ventured over to Roosevelt Island for an afternoon the other day - and taking advantage of the world class museums the city has to offer - like the Met, which is a 5 minute walk from my apartment.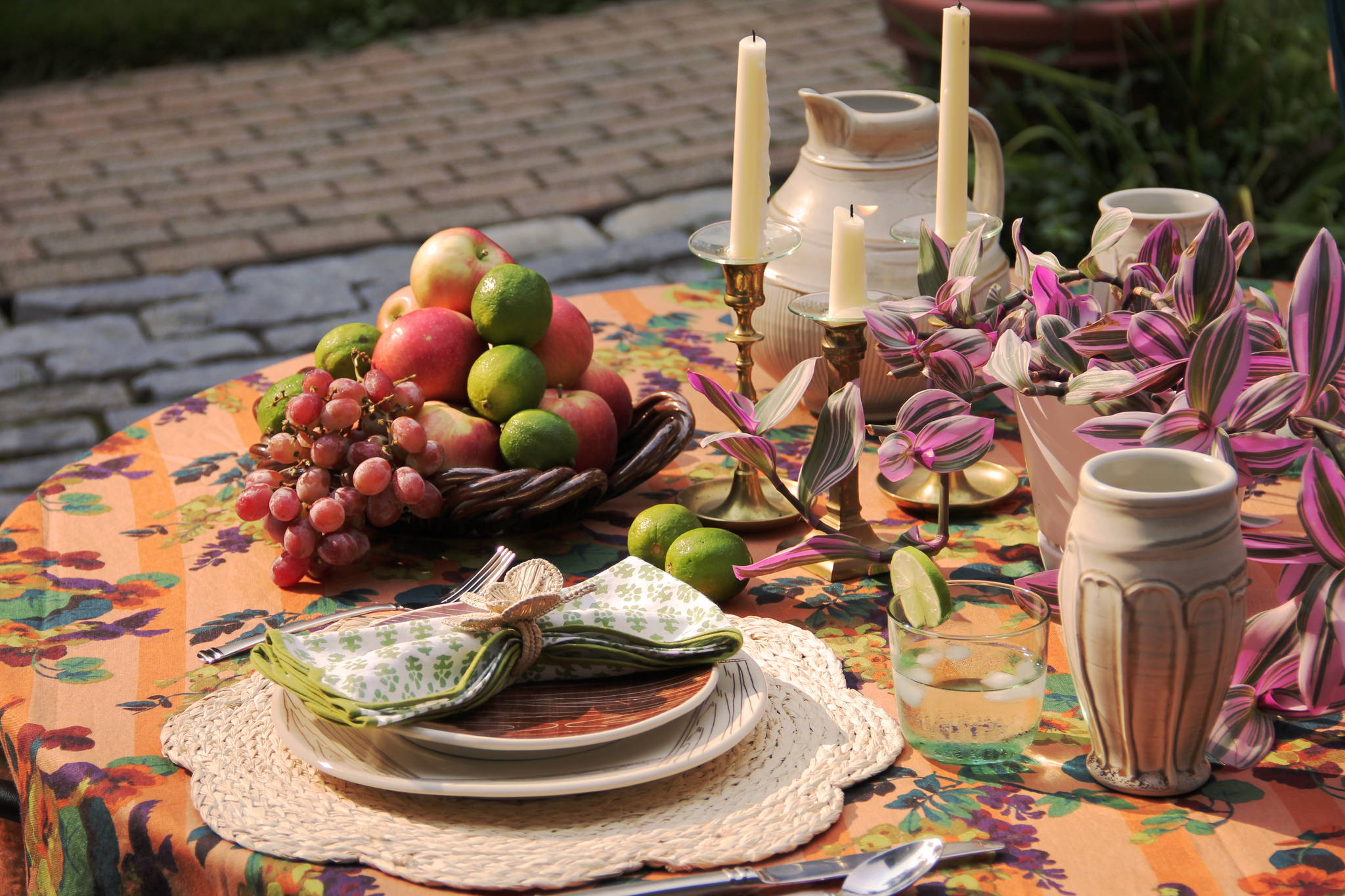 What are your Freshly Set must-haves?
Can I say everything? I love prints, so of course, the Wisteria Collection, Fleur de Vie Collection and Caroline Blue Napkins are among my favorites.
What events will you use Freshly Set for?
What I love best about Freshly Set is that the pieces can so easily be dressed up or down to work with the mood of the event. I will continue to utilize Freshly Set to jazz up casual, spur of the moment friend gatherings, as well as holiday meals when I'm looking to make the event feel more formal.
If you could invite five Insta-friends to your next party?
I'd definitely love to use this event to meet some of the artists, authors, and creators that I most admire! Claire and Erica of @athingortwohq always find THE coolest home decor and have the best recommendations, UK based interior designer Matilda Goad @matildagoad, author Mary HK Choi @choitotheworld whose novels I adore, Gen Sohr behind @pencilandpaperco, and my IRL friend, artist Nealy Hauschildt @nealy.hauschildt.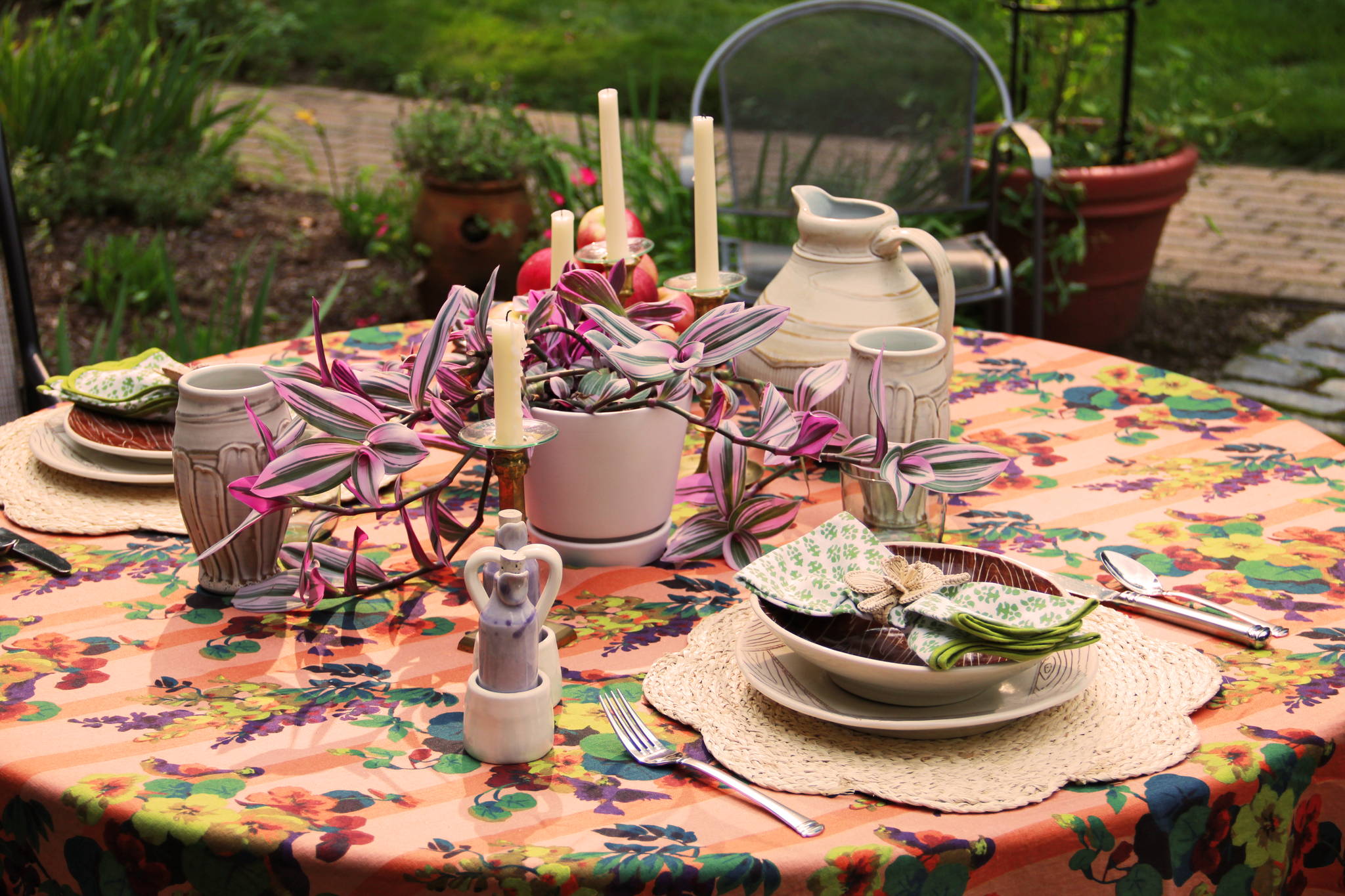 How do you incorporate your personal style into your entertaining?  
My love of mixing and matching unexpected color combinations, prints and patterns is absolutely reflected in the way I choose to set a table. This comes through in the linens and textiles I gravitate towards, as well as flatware, dishes and serving pieces, and centerpieces or decor items. I want all of the homewares I keep on hand for entertaining to have a story or meaning behind them - whether I found them on a special vacation or vintage treasure hunt - sharing those stories with friends and family adds even more meaning to each piece.
How do you unwind after a long install or work trip?
I've recently become a bath-gal; it's my favorite way to end the day. My husband recently bought me one of those trays that sits on the edges of the tub and can hold all my essentials - a good book and my beverage of choice. It's a game changer!
What are your favorite colors and patterns to mix and match?
Currently, I've been loving the combo of mauve and tangerine. These shades work well for the spring/summer and can be made moodier for the fall.
I've been incorporating this color palette in an on-going design project with a color-loving client and I'm SO excited to be able to share the final space soon!
Your go-to hostess gift?
If the hosts have recently moved into a new place, a customized return address stamp with their new address is always a hit. Etsy has so many vendors with great personalization options.
Another no-fail gift are monogrammed hand towels. The piping and embroidery options at Weezie are my favorite.
What are your favorite entertaining pieces in your home?  
Without question, my more heirloom pieces are the ones that I reach for time and time again. Examples include: handcrafted dinner plates by my mom, a vintage blue willow serving bowl that was a wedding gift, and my favorite colored glassware.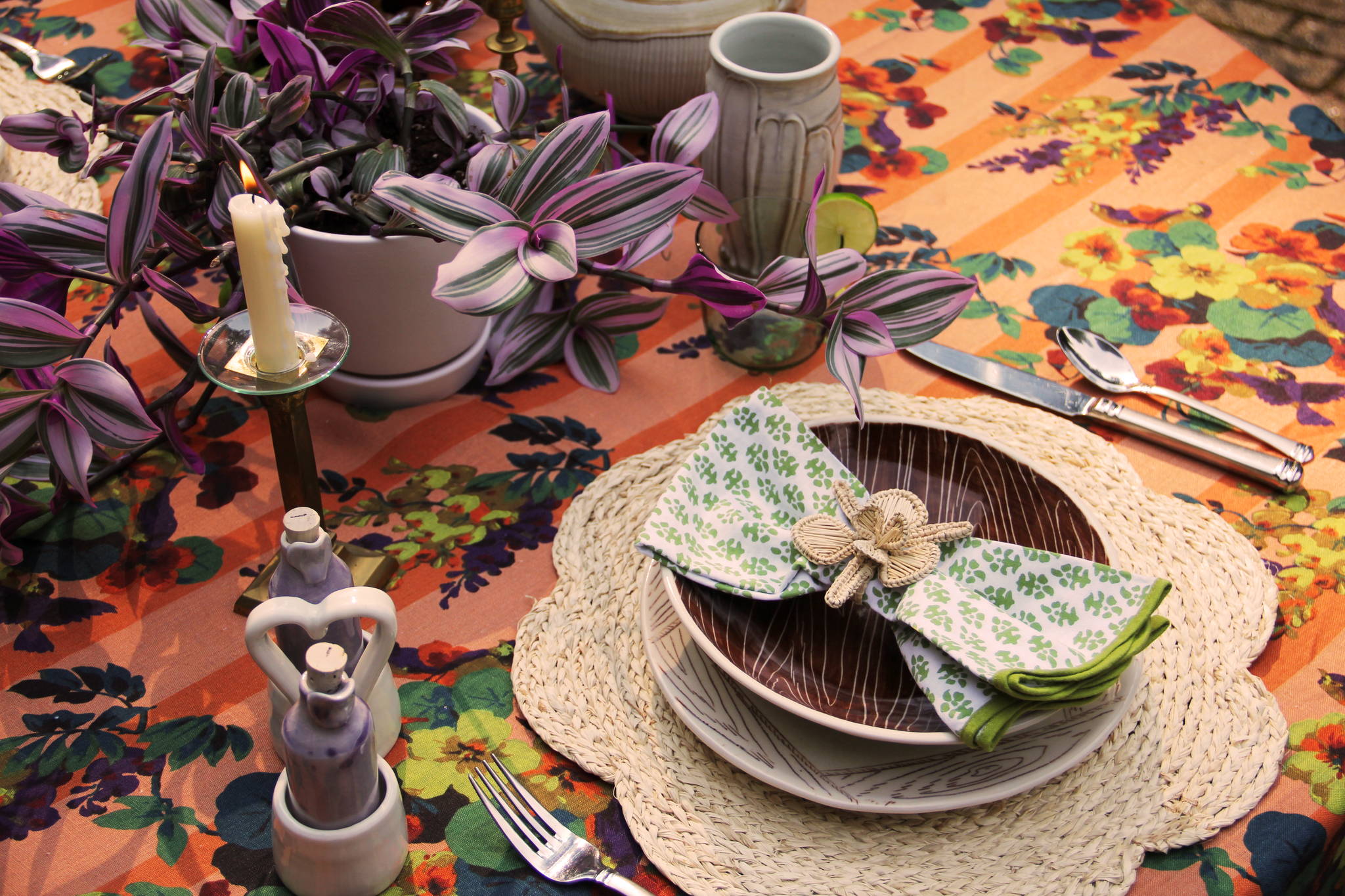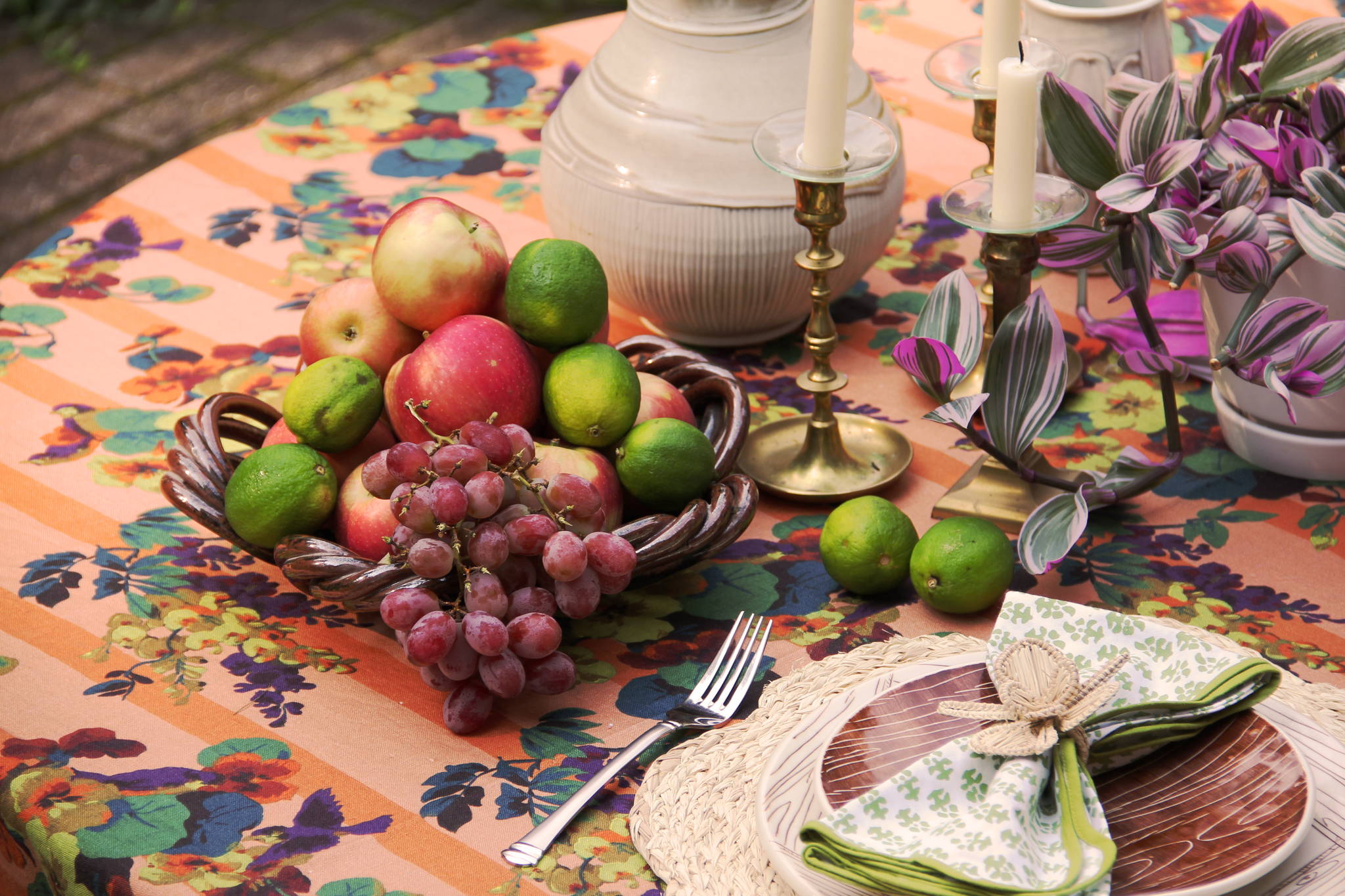 ---
Patterns or solids? Patterns
Head of the table or in the middle? Around the kitchen
Ideal dinner location? A not too formal dining room or outdoors.
Stemmed or Stemless? Stemless
Serving Style? Family style
Lighting? Candlesticks
Seating arrangement? Place cards
Atmosphere? Fancy without fuss
Music? Jazz
Beverage of choice? Cocktail
---