Table Talk with Lilse Mckenna

Maryland raised and New York based interior designer Lilse McKenna creates homes that are rooted in tradition and tailored to reflect each client's personality and lifestyle. Layered in various furniture styles, patterns and textures, Lilse's interiors provide her clients lasting sophistication and comfort. Prior to establishing her firm, Lilse worked for esteemed interior designers Lindsey Coral Harper and Markham Roberts. Lilse is currently working on projects around the country. Lilse McKenna Inc. is based in New York City and Lilse lives in New Canaan, CT with her husband Conor, their two sons, Grey and Daiger.
As an Interior Designer, what does a typical day look like for you?
I start most days at my desk in Connecticut, checking emails and to-do's, and calling my office in NYC to check in with my team. Between 10AM - 3PM I am either working on drawings and schemes, hopping on and off calls, or in meetings. The days of drawing and scheming are my favorite days. I get to put my phone on do not disturb and dream about my project for a few hours. Some days if I am lucky I can squeeze in a quick shopping trip to Stamford or to the D&D. After 3PM, I try to be back at my desk crossing tasks off my list again before I sign off to be with my boys.
What is your favorite part of your job?
Dreaming up the design for a project. I can lose hours researching, sketching and shopping for a project.
Where do you find inspiration?
I find most of my inspiration in books, but sometimes an image on Instagram will catch my eye and influence a project in one way or another. Recently I keep finding myself turning back to design books from the late 80's and early 90's that my grandmother gave me many years ago.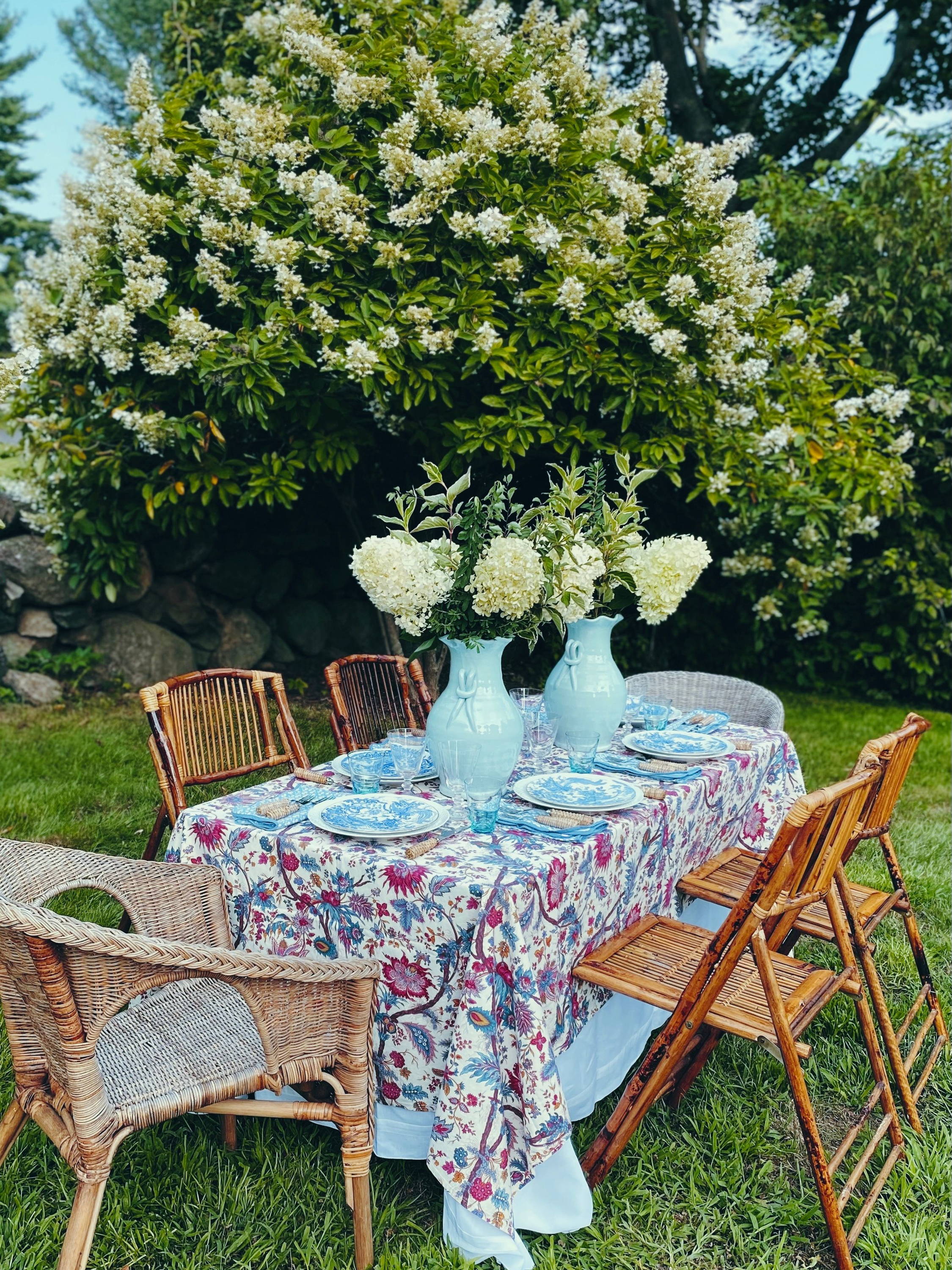 What are your Freshly Set must-haves?
Iraca Placemats - I own a set of similar placemats and love how they elevate even a simple setting.
Maison du Linge Tablecloth - Especially the Fleur de Vie and Paisley Bleu, because they remind me of 19th C French fabrics.
Amanda Lindroth Napkins - I love the informality and practicality of a small scale block print napkin.
What events will you use Freshly Set for?
I host dinner parties that are not fancy, but feel elevated from a normal dinner, and I'll use Freshly Set to set a table that makes dinner feel like an event.
If you could invite six Insta-friends to your next party?
I'd love to have a girl's dinner with @juliaberolzheimer, @gadabout, @sisterparishdesign, @lucycuneo, @juliaamory and @rosielondoner, some of whom I am lucky enough to know in real life and some of whom are Insta-friends. We're all business owners and moms of young kids, and I think we could all probably use a fun girls' night with a beautiful setting.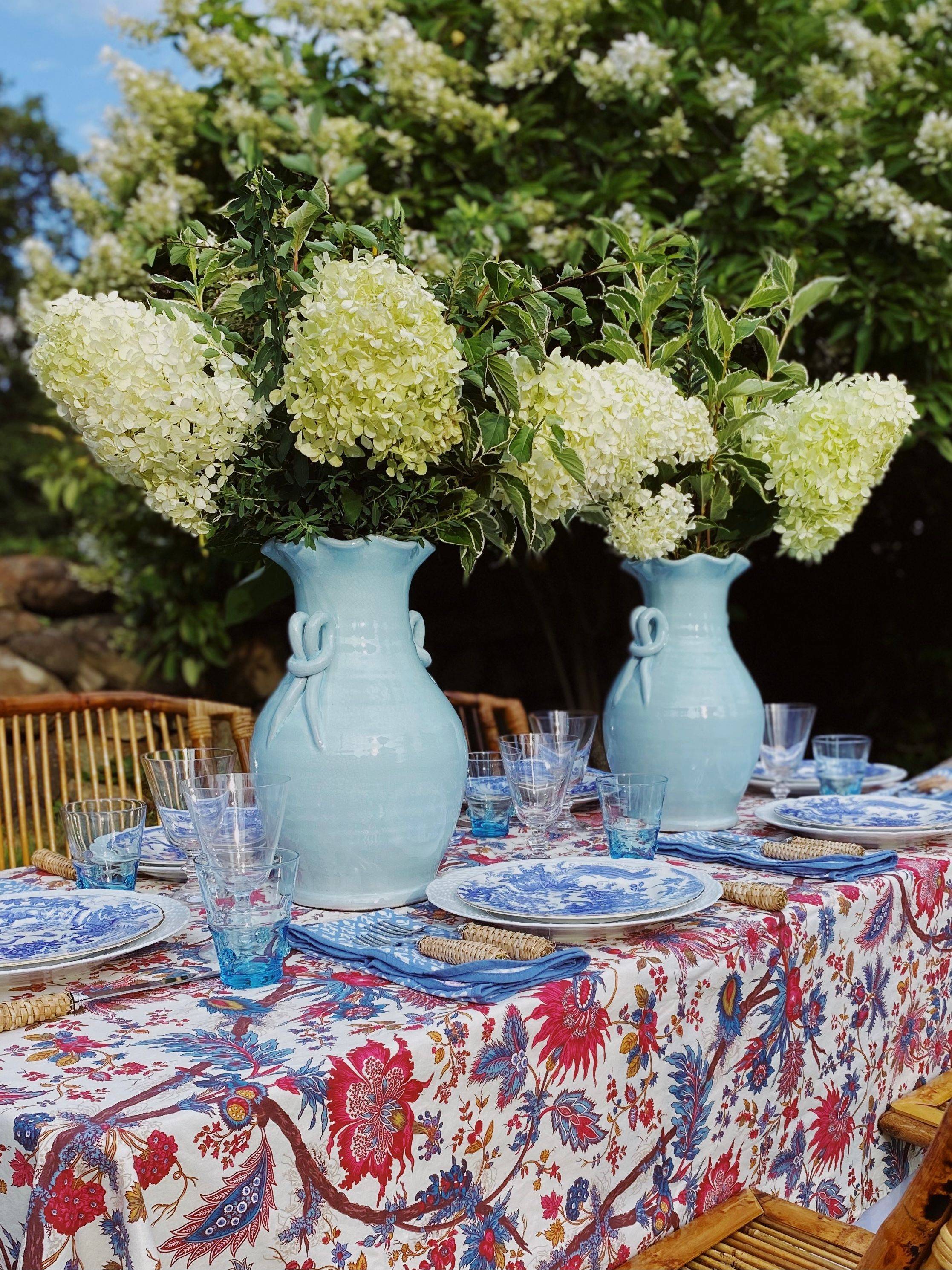 How do you incorporate your personal style into your entertaining?  
I think setting a table is one of the speediest and most satisfying mediums for expressing your style. I like to layer unexpected patterns and textures together, and keep the flowers fairly simple, because anything too complex is above my pay grade.
How do you unwind after a long install or work trip?
What is unwinding? I forget now that I have two babies! :) I have a glass of wine and a nice dinner with my husband.
What are your favorite colors and patterns to mix and match?
So many to choose from! I will always love blue and have a ton of blue pieces in my home and for my table, and I like mixing my blues with greens and reds. I could go on and on about patterns, but I currently love English and French chintzes, or an embroidered floral, mixed with a block print to make it a bit more casual.
Your go-to hostess gift?
I usually bring two bottles of wine: one that goes with the meal (for if the party goes on longer than the host expects) and one that doesn't really match the menu for the host to tuck away for later.
What is your entertaining motto?  
The guests will always have as much fun as the host is having.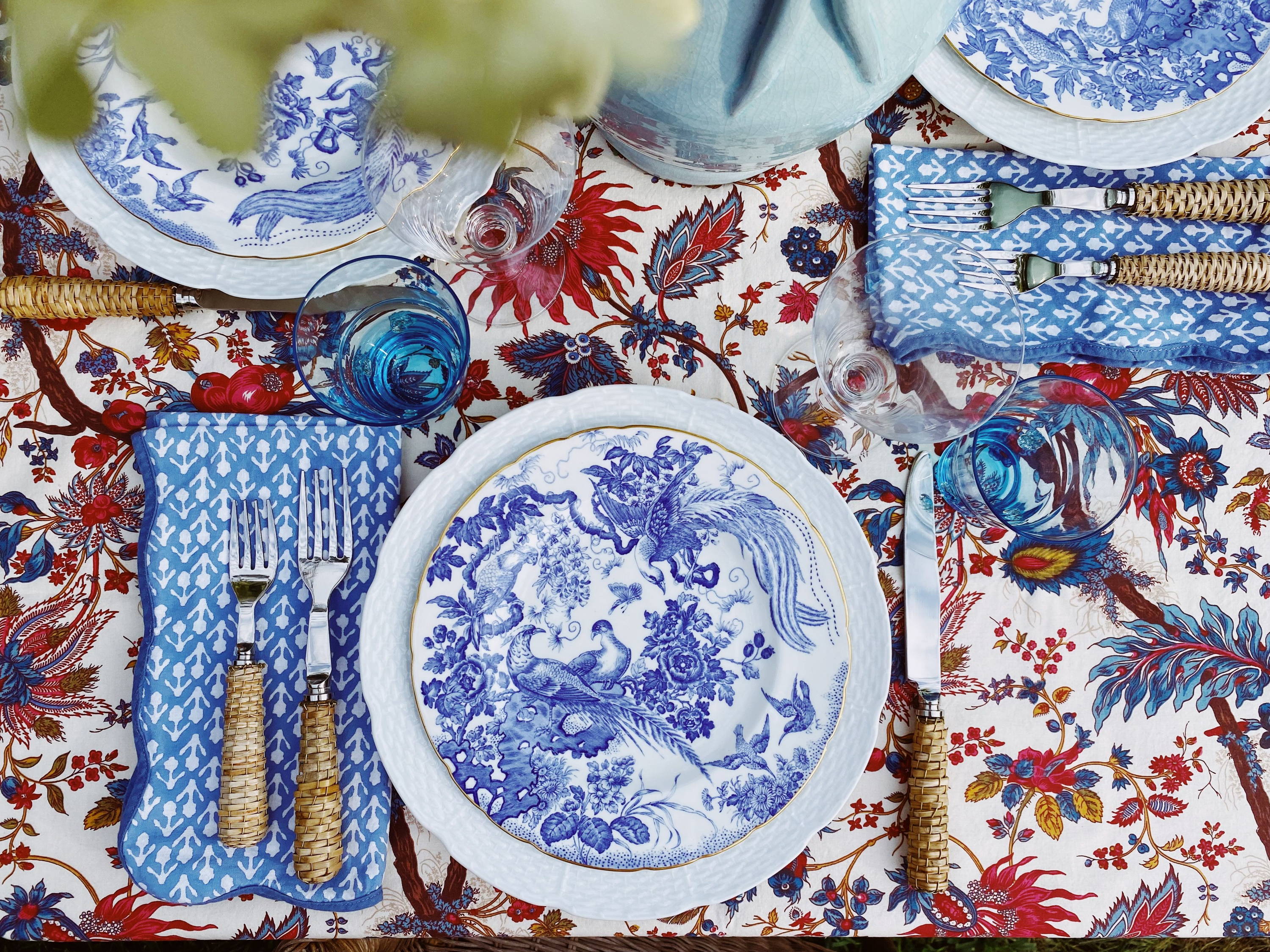 What are your favorite entertaining pieces in your home?  
I have a blue and red block print tablecloth that I picked up at Simraine in Paris that looks entirely different, but equally beautiful when it is flipped over, and I hope it never falls victim to a night that was too much fun. I also have a pair or hurricanes made of ostrich eggs that I bought in Marrakesh that give off the best warm yellow light and make for a good conversation starter.
What is your go to meal when hosting a dinner party?
I love to make anything from the Barefoot Contessa Parties!. It is an old book filled with the simplest menus and recipes meant to feed a crowd, and I find myself going back to them again and again for dinner parties.  
What is the most inspiring event you ever attended and why?
The Lenox Hill Neighborhood House Spring Gala is always full of inspiration, because the charity invites designers to create over the top tables capes based on a central theme. The designers all get to dream up something wild, and walking through the room is like walking through a party museum.
Is there anything you are working on or have coming up that you would like to share?
We have some exciting projects in the works, but the one I wish I could share (but sadly cannot yet) is my own house!
Favorite party song?
Beast of Burden by The Rolling Stones.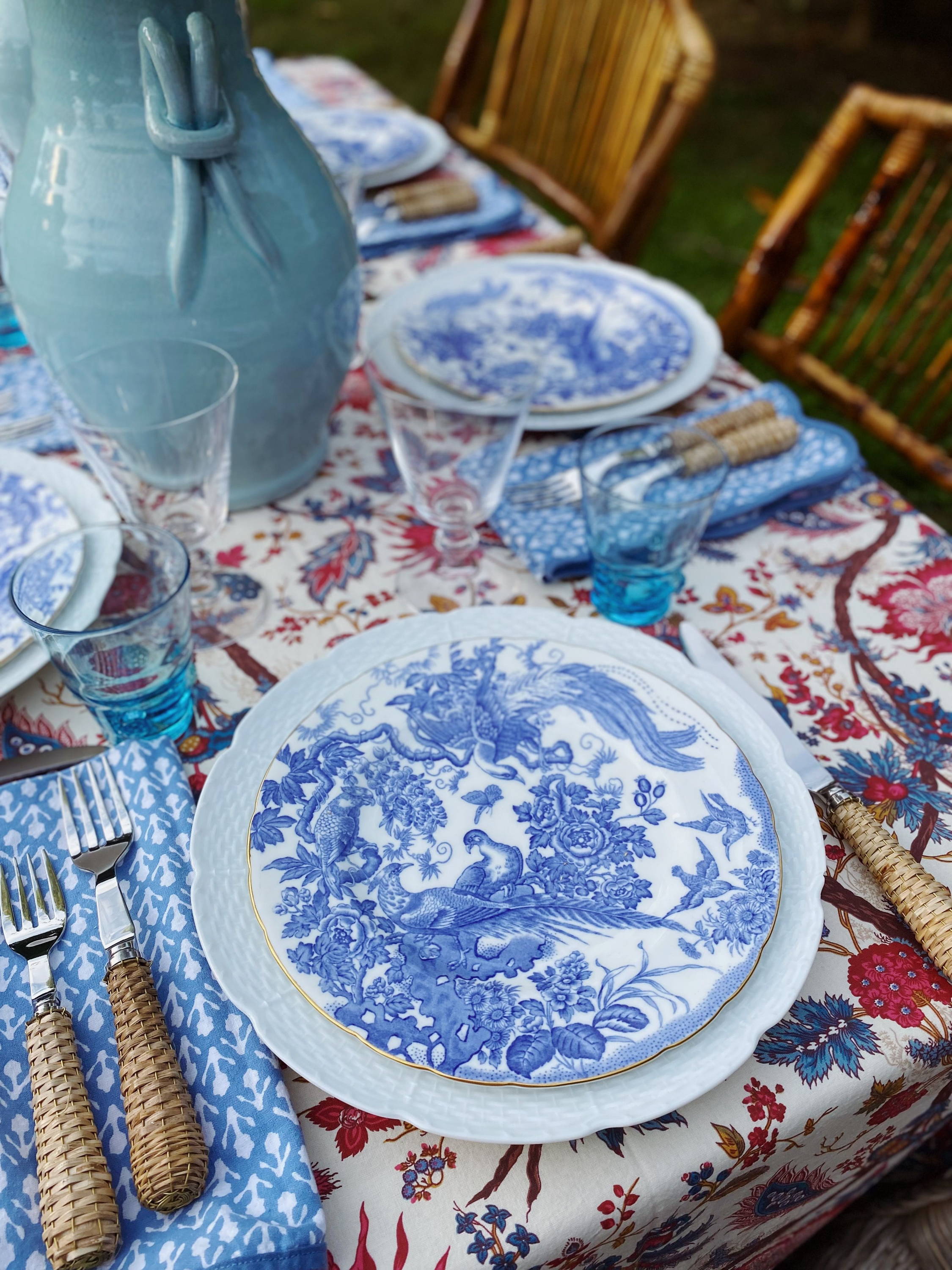 ---
Patterns or solids? Always patterns, and maybe a solid here and there for the eye to rest.
Head of the table or in the middle? Head at my house, so I can talk to as many people as possible!
Ideal dinner location? A not too formal dining room or outdoors.
Stemmed or Stemless? I love them all.
Serving Style? Family style, because it is less likely to get cold by the time you start eating.
Lighting? Candlesticks and votives!
Seating arrangement? It depends on the setting! When I am a guest I do love a place card.  
Atmosphere? I think fancy without fuss, because I like to feel like it's an occasion.
Music? Soul.
Beverage of choice? Wine for me, but I like to make cocktails for everyone else.
---