Table Talk with Paige Minear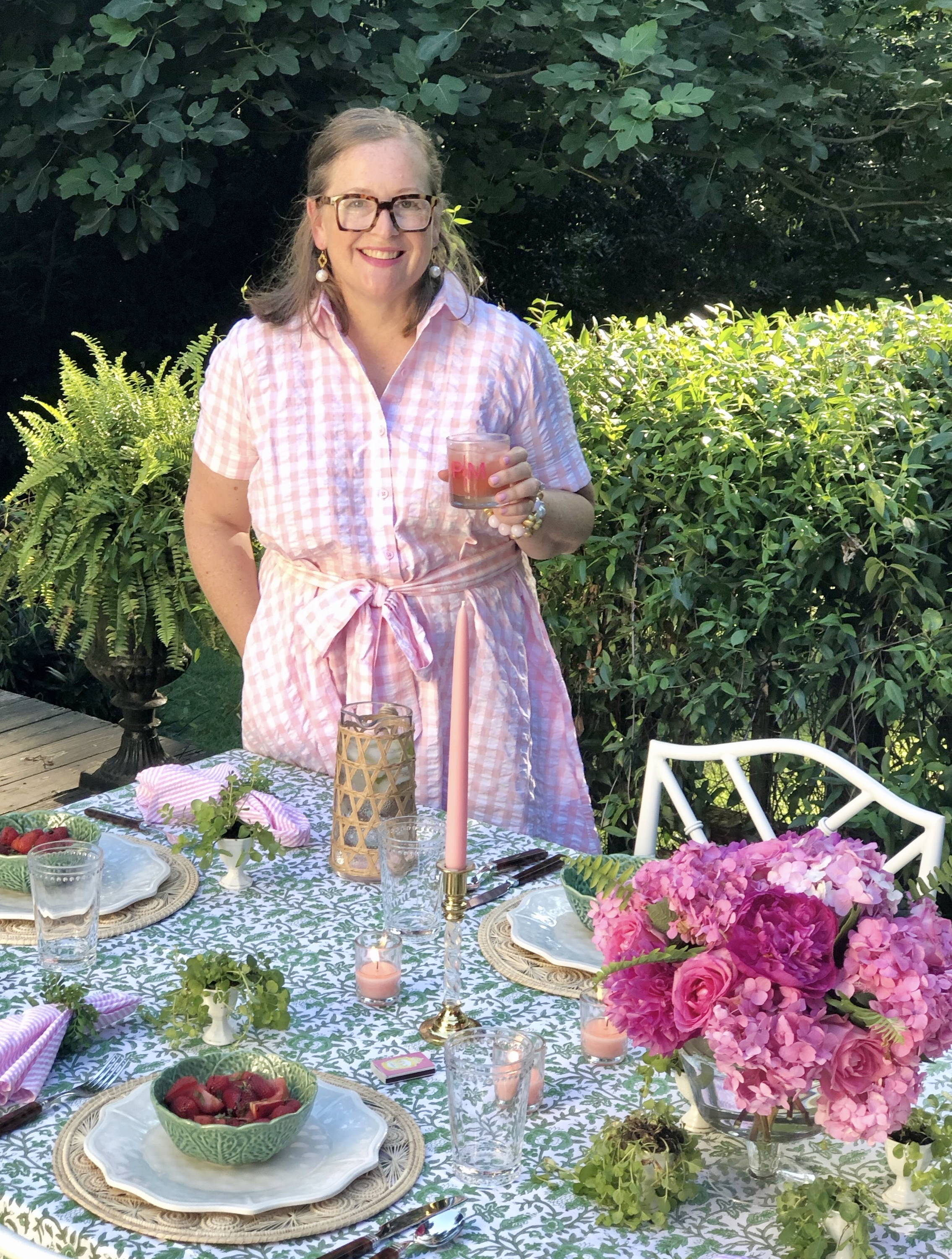 Paige Minear is the author and preppy creator behind the design blog The Pink Clutch. Paige is known for her home full of color, Palm Beach style and antique treasures. Blogging since 2007, she uses her love for all things design related and her fashion background to channel her love for styling into daily posts. She strives to bring her readers colorful posts and inspiration. She is a lover of a strong latte, champagne cocktails, a stack of magazines, crisp button downs, popped collars, a sweet treat and a house full of fresh flowers and monogrammed linens. She can be seen most days in a gingham button down, pearls galore sporting leopard flats and ready for adventure.
What makes a wonderful party host?
For me I think a wonderful party host is one who creates an environment for her guests that leaves them with a lasting impression of the event. One of my favorite party's I threw was a Christmas brunch for six a few years ago. We sat and chatted and truly connected with each other. The time they gave me during such a busy season of the year was special to me and I sent them home with a Christmas ornament for their tree which I felt like truly represented who they were. We all still talk about it. I love going to a party where I make a real memory, something that sticks with me over and over again.
Who do you think the most skilled and gracious party hosts are?
Great question! Emily McCarthy @emilyjmccarthy is one of my favorites, her parties at the shop are always so well thought out and the parties she throws at her house are so meaningful. Libbie Summers @libbiesummers who is a master at events ... always gives you something to take home that will evoke a memory of your time together. Brittany Young @certifiedcelebrator ... her heart for intentional celebrating is infectious. Caroline Hernandez @sweetcarolinedesigns is a fabulous party thrower, her first birthday party for Mignonne made me swoon. Lance Jackson @parkerkennedyliving doesn't miss a detail when entertaining. If you have a favorite cracker you will most definitely find it added to the appetizers! I love seeing Eddie Ross @eddieross entertain, he mixes such beautiful pieces and makes the most incredible food. Steve McKenzie @stevemckenzies is a gifted host, his florals and food selection is perfection.
What is inspiring you right now?
I think finding inspiration during a pandemic has been tough, but also so special. I am inspired by fresh fruit and vegetables, gardens, seeing people create joy for others during such a strange time, and travel ideas. I can not wait to be at a place where day trips and adventures are safe and normal once again.
What are your favorite entertaining pieces in your home?
I love a bar cart, they are so versatile and can be used for so many things ... serving drinks, dessert station, I even have one serving as a gardening bench right now.
I love a great cheese board, you can use them for all kinds of appetizers and meals, do not stop at just charcuterie!
I love woven covered pitchers, they are a beautiful way to house water, tea, cocktails and even a great vase for flowers.
I love large blue and white jars and bowls. They are fabulous for flowers, holding citrus, and make great displays when you group them together.
What is your home decor style?
Our home is very colorful and a mix of old with new. I love to mix an inherited antique piece with new original art. Both my husband and I are Floridians and our home is very reflective of the things about growing up in Florida that brings us great joy.
What are your current three favorite finds from the Freshly Set websites?  
I love it all ... but I am definitely drawn to the Aria collection and also the Simla and Meraki.
What is your entertaining motto?
Spend time with your guests. Make a simple meal to be able to spend time with the people you have chosen to invite over, make them feel loved on when they leave!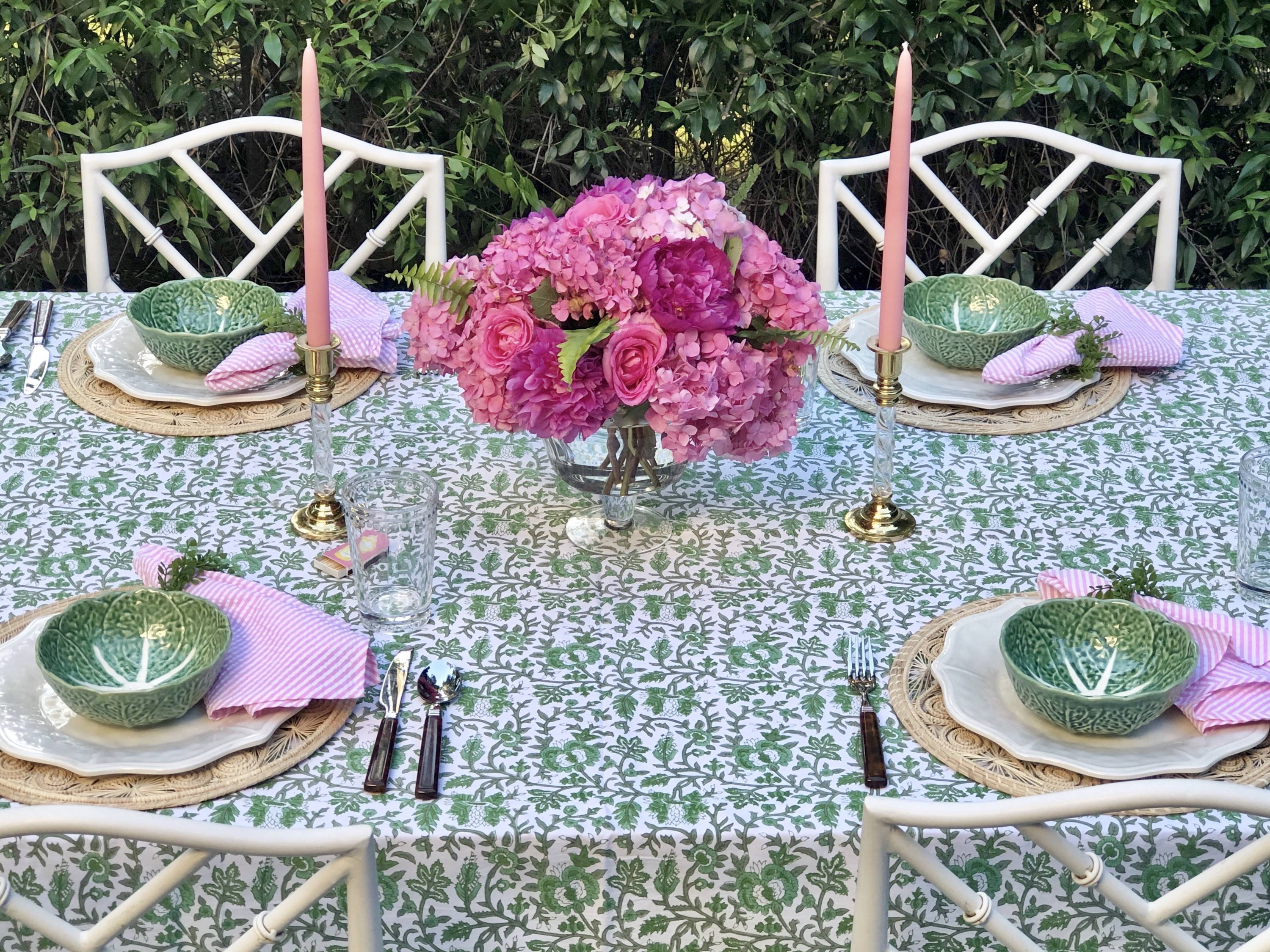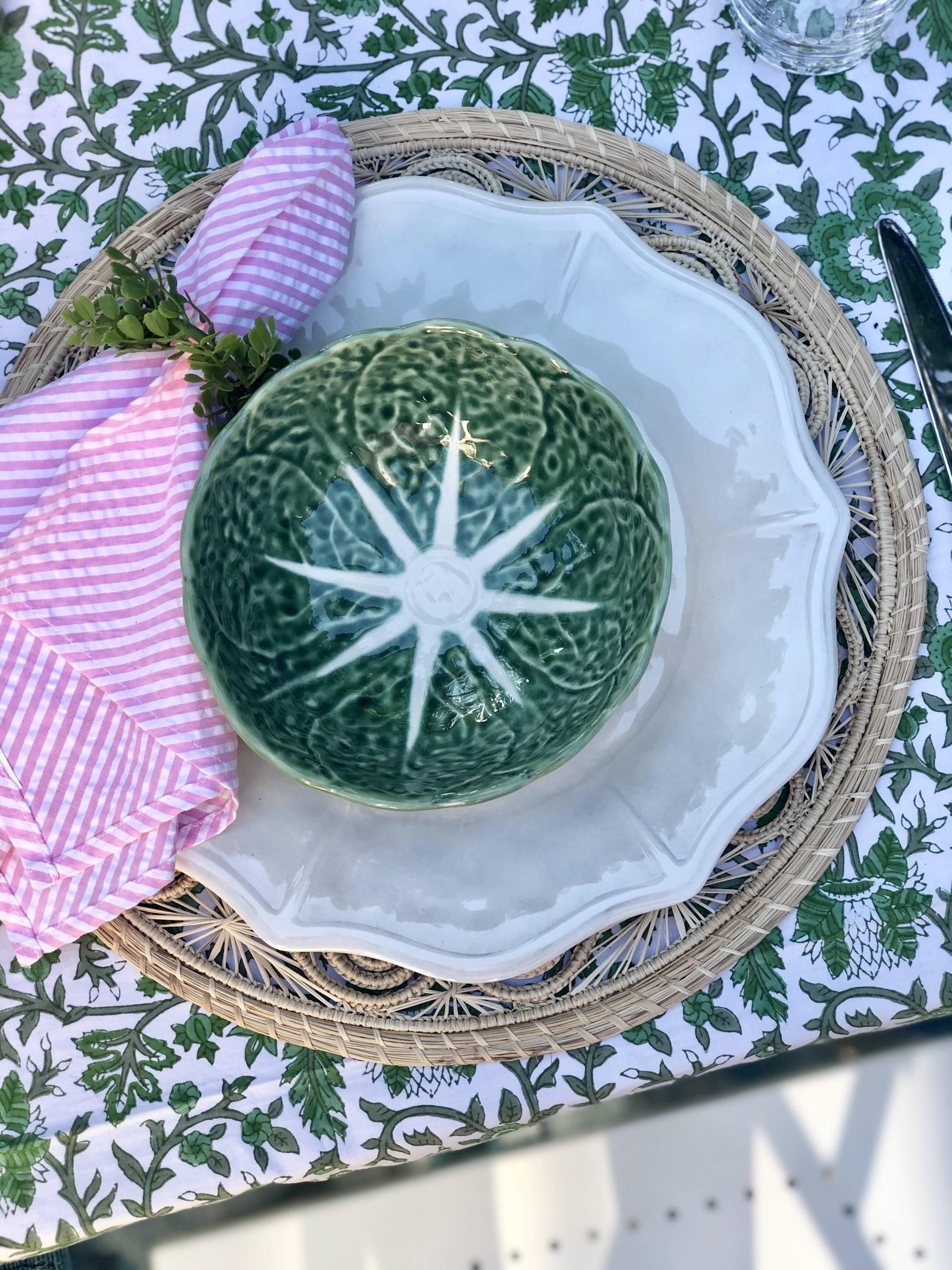 Who are your dream dinner party guests?
Dream, oh this is fun! Queen Elizabeth, Jackie Kennedy, Oprah, Barbara Bush, Maya Angelou and Audrey Hepburn. I would ask questions and soak up their stories and wisdom all evening.
What makes a great guest?
I think a great guest is one who can mix with anyone you invite over. One of my favorite friends to invite over is my friend Mary-Anne who can talk to anyone, asks the most amazing questions, and gets people to share the most amazing things. We also have a coffee call the next day where she dishes on everything and tells me so much I never knew! She has never met anyone she didn't adore!
What makes for a bad guest?
One who can not hold their alcohol, I will not be asking you to join us again!
Your go-to hostess gift?
I love to take something that can be used the day of the event ... a platter, some amazing napkins in a holder, a candle ... I like to drop them off early so they can use them if they chose!
What is the most inspiring event you ever attended and why?
I think the best event I have ever attended was a dinner party hosted by Parker Kennedy Living for 60. The guest list was a mix of editors, friends, interior designers and business owners in the hopes of creating relationships. I met some of the most amazing people and learned so much from those I met. Every single detail was thought about, down to the music and the opening of doors to showcase a well set table with candles galore and the most beautiful music. It was stunning, every single detail.
If you could invite six insta-friends to your next party, who would they be?
Jill + Steve McKenzies @stevemckenzies, Libbie Summers @libbiesummers, Ashley Brooke Chambers @ashleybrooke, Brian Hart Hoffman @brianharthoffman, Carrie Morey @callieshotlittlebiscuits, Tom Samet @tomsamet. I am imagining the incredible conversation and all of the incredible items that would be included if we make it potluck!  
Words to entertain and live by?
Take time to truly soak up others and invest in them. I believe if we invite people over we are hoping to get to know them better and create memories with them. I am a person who thrives on quality time and I love nothing more than spending time with those who have chosen to say yes to spending time with me!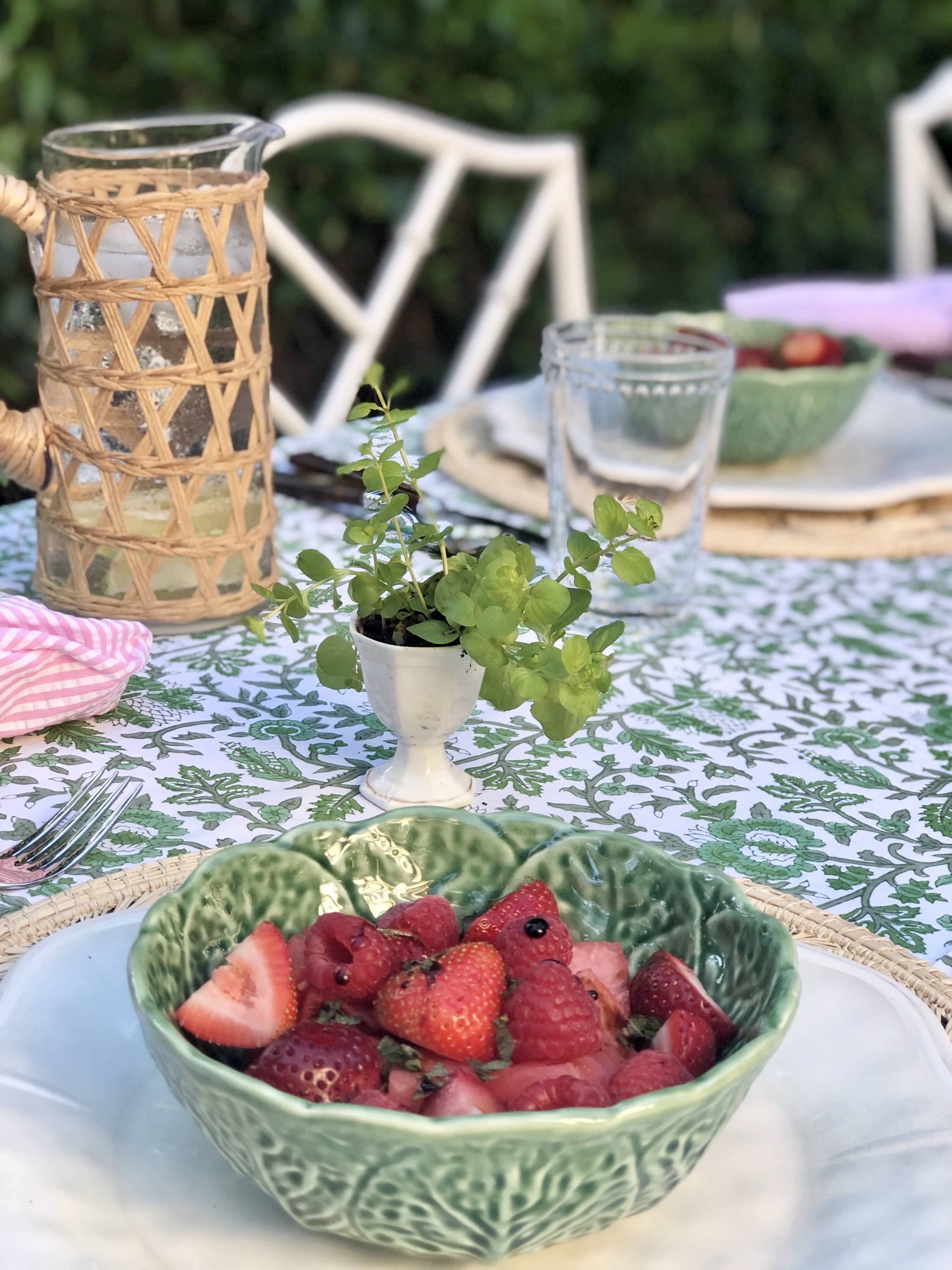 Spend time with your guests. Make a simple meal to be able to spend time with the people you have chosen to invite over, make them feel loved on when they leave!
Patterns: patterns or solids? Patterns all the way!
Spot at the Table: Head of the table or in the middle? I love the middle!
Ideal dinner location: around the kitchen, outdoors, or a formal dining room? Alfresco dining for me every single time!
Wine Glasses: Stemmed or stemless? Stems are so sexy!
Serving style: Buffet, family-style, or served? I love family style, it makes them all feel like family!
Lighting: Candlesticks, candelabra, or votives? Candlesticks for sure, with votives mixed in!
Seating arrangement: place cards or rules be dammed?  Place cards are so fun to mix people up!
Atmosphere: Fancy without Fuss or Thoughtful but Casual? Thoughtful for sure!
Music: classical, moody, upbeat, or fun mix? I love a great fun mix.
Beverage of Choice: wine or cocktail? Signature cocktail with wine for backup.