Table Talk with Tiffany Davis Olson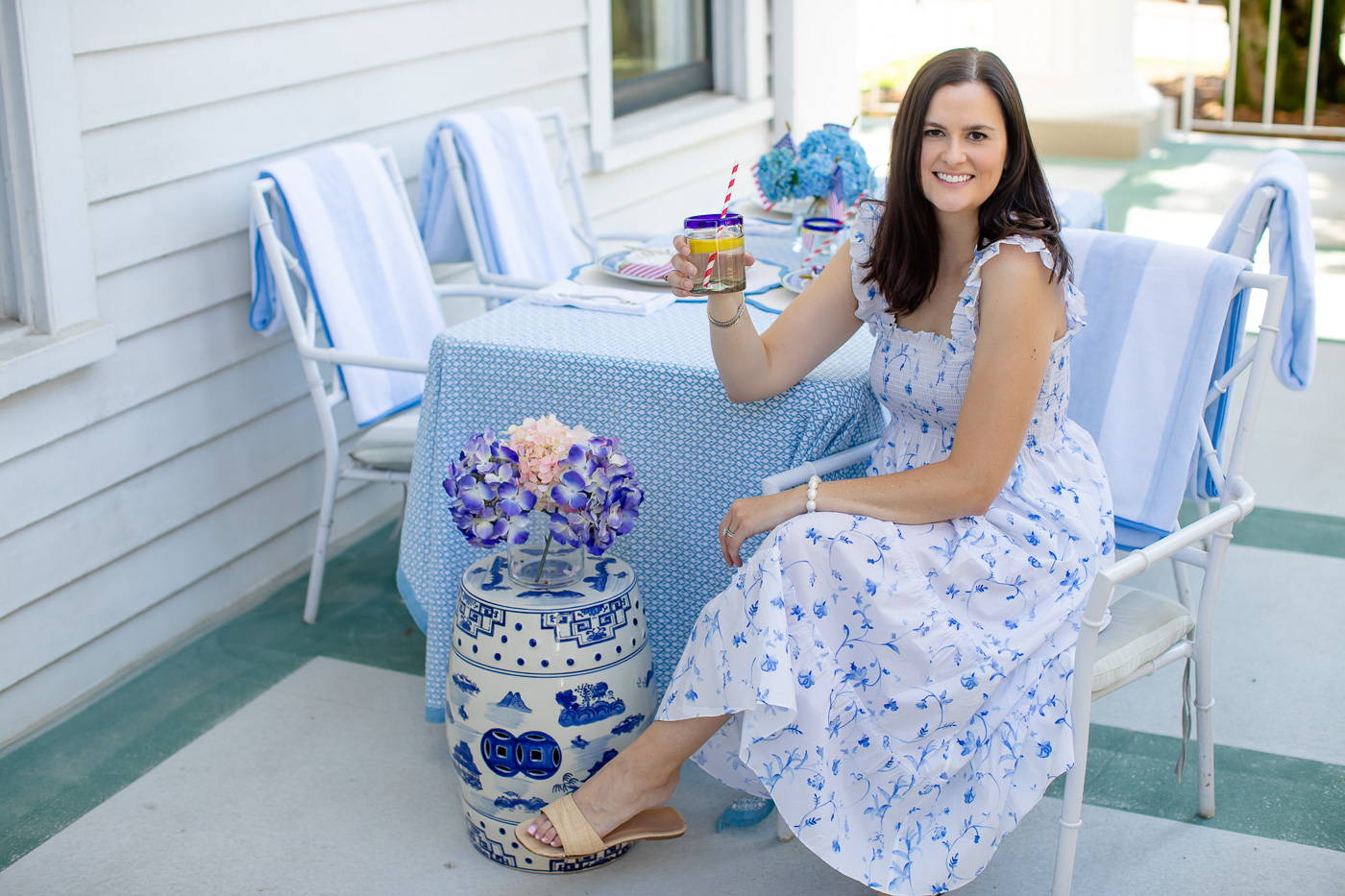 Tiffany created her blog, tiffanydavisolson.com, in 2009 as a space to share and inspire creative ideas. With a lifelong passion for fashion, style and travel, she has loved sharing her favorite things with her readers over the years. In 2018, Tiffany expanded her offerings into a full creative studio, Bloom Studio Creative. Tiffany now lives in Macon, GA with her husband, Charles, son William and rescue dog Bentley.
What makes a wonderful party host?
Someone who can make guests feel perfectly at ease and at home. I once heard a tip that stuck with me: guests feel most comfortable when they can help themselves. I try to always keep that in mind when setting up for any party, and even in the layout of our kitchen remodel.
Who do you think the most skilled and gracious party hosts are?
A few people I love following on Instagram in this department: Emily Jackson of @stuffy_muffy always has the best recipes, most beautiful tablescapes and gives wonderful advice. I love following Caroline Frierson of @sweetcarolinedesigns for the party theme ideas and she always gives me inspiration to celebrate more often. I also love Aerin Lauder's most recent book "Entertaining Beautifully" and use it as my #1 guide for all things entertaining related right now.
What is inspiring you right now?
Interior design ideas, seasonal entertaining, party ideas and flower arranging. I love using Instagram as a tool to learn more about all of those topics. I'm not an expert in any of these departments, but love learning as much as I can and it is usually one of these things that keeps my creative juices flowing.  
What are your favorite entertaining pieces in your home?
One of my most used pieces is a very simple 3 piece glass footed platter set. It is perfect for sitting out little bites and it is tall, so it provides a little interest to any table. It was a wedding present and we have seriously used it so much! More recently, I just got a new white melamine ice bucket that I think will be super versatile. I'm thinking of filling it with everything from water bottles at an outdoor party to juice boxes for a play date.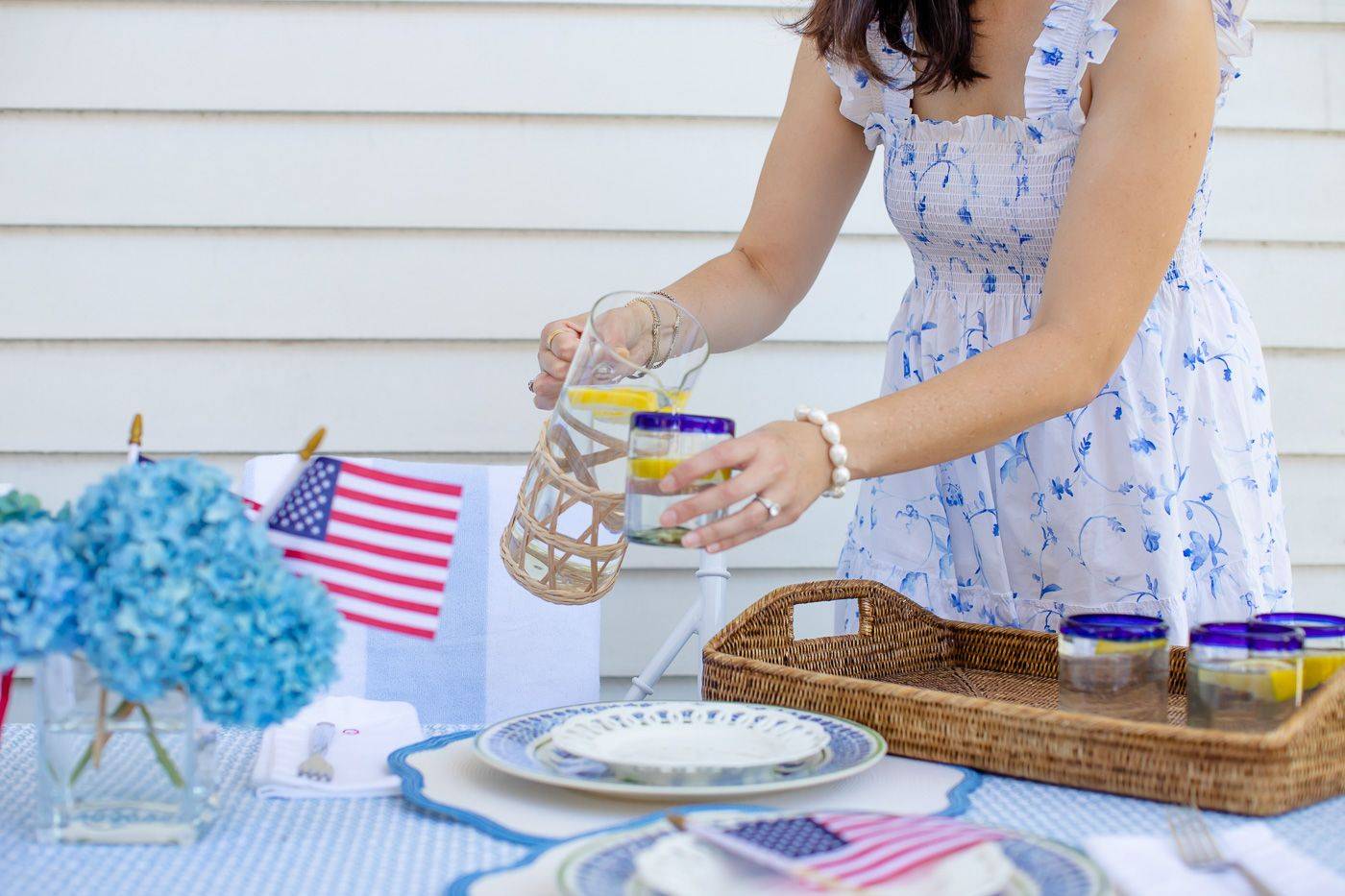 What is your home decor style?
I used to gravitate more towards a modern style, but in recent years I've been buying more traditional pieces as well. I actually love how the two styles are mixing right now. I love classic design styles like chinoiseries and blue & white pieces for instance, but with more contemporary styling.
What are your current three favorite finds from the Freshly Set websites? 
I love the Amanda Lindroth Blue floral tablecloth, Deborah Rhodes border scallop placemats and the Iraca Orchid Napkin Rings.
What events will you use Freshly Set for?
I will Freshly Set for get togethers with friends and family, especially special family celebrations! I loved renting the beautiful Amanda Lindroth tablecloth for my sister's going away party. I wanted to do a "Georgia peach" theme and needed a green tablecloth to complement the peach flowers. I order the Amanda Lindroth Green Batik Tablecloth and it complemented the peaches and peach colored flowers perfectly. This was the perfect opportunity to rent something new, so I could pull off the exact look I wanted.  
What is your entertaining motto?
Try to do as much as you can in advance. Then when the party starts, just relax and enjoy. I also am admittedly not much of a cook, so I almost always outsource the food.
Who are your dream dinner party guests?
Kate Middleton, Julia Berolzheimer, the cast of Downtown Abbey (hehe), to name a few.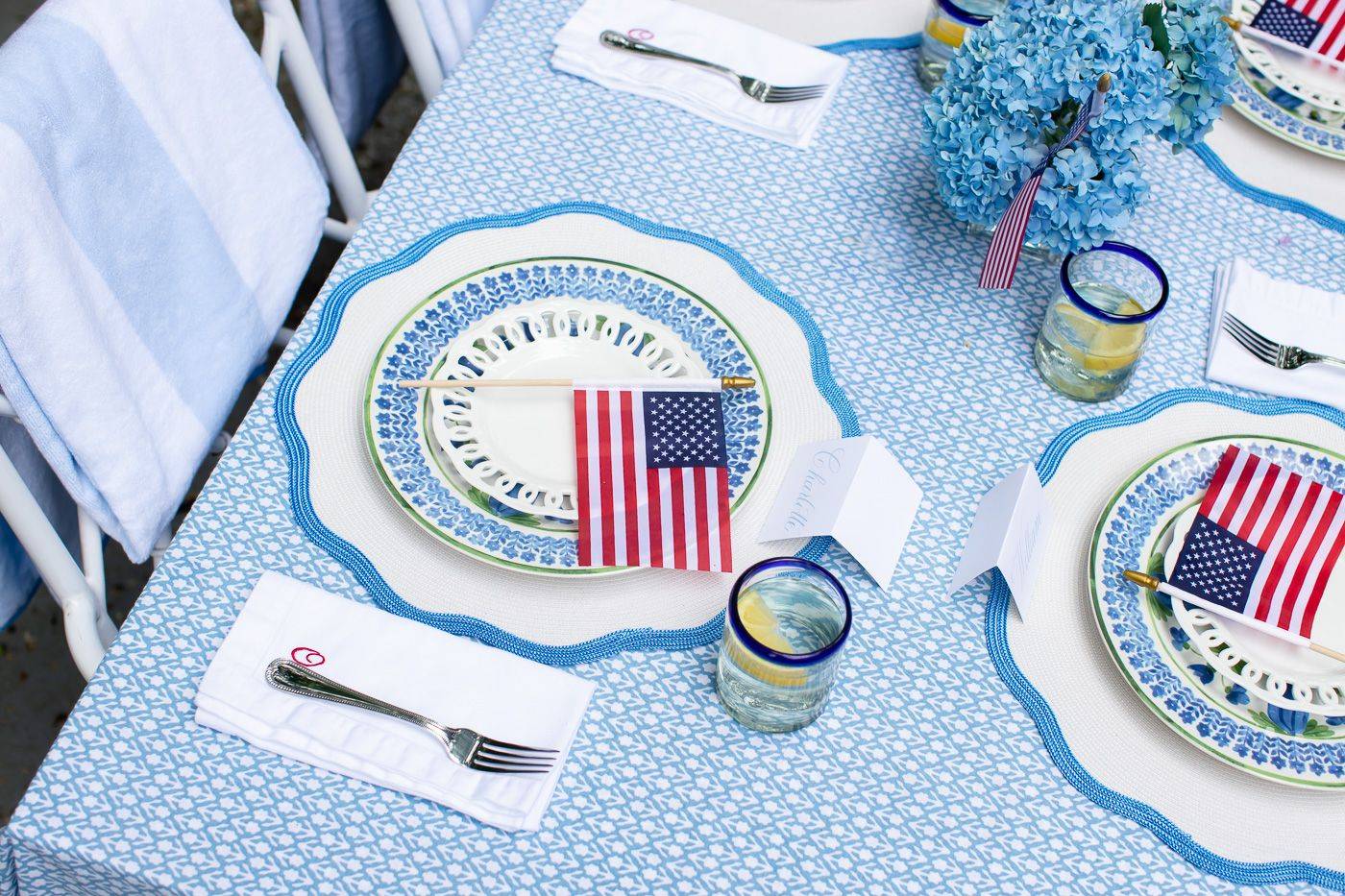 ---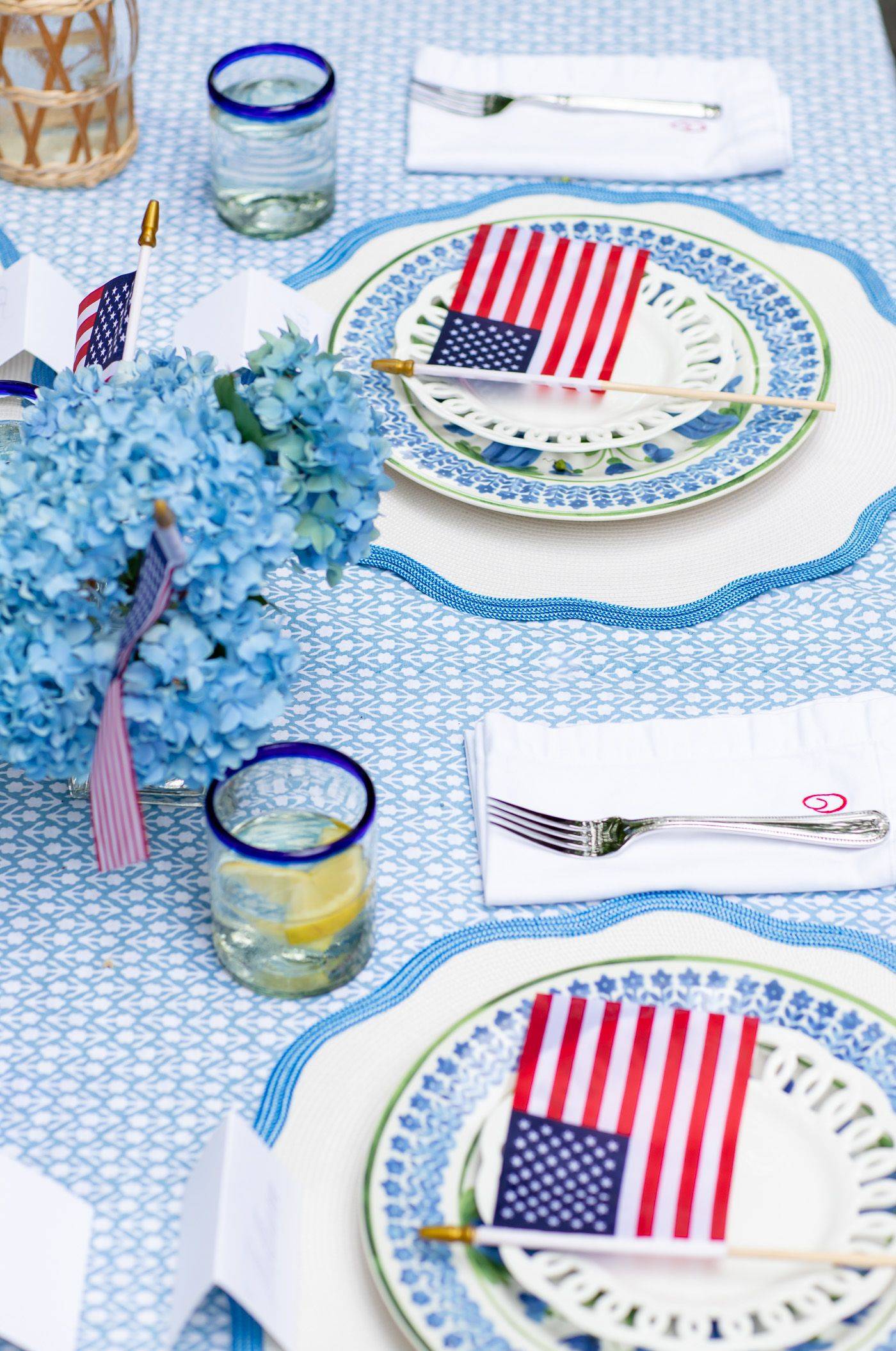 What are your butler's pantry staples?
An assortment of my favorite napkins, and I am also currently stocking up on different candles and cake toppers, because I always forget to purchase them for birthdays.
What makes a great guest?
Someone who is ready to have a great time! As a guest, I try to do my best to mingle with everyone instead of just talking to people I know.
What is the greatest party you have ever thrown and why?
I really loved throwing our daughter Charlotte's first birthday! It was a very small family gathering, but so special and fun. I think I was able to really enjoy it because everything was planned out so far in advance, there was no last minute rushing around. I really knew exactly what I wanted the theme to look like and had a very clear vision. Even her dress was actually ordered 9 months in advance! (crazy!)
What is the number one rule every good host or hostess must remember?
Try to make everyone feel included, comfortable and well taken care of.
Your go-to hostess gift?
A small vase of flowers.
If you could invite six insta-friends to your next party, who would they be?
Danielle Rudy Davis (@louwhatwear), Emily Hertz (@bornonfifth), Taylor Miller Turner (@taylormillerturner), Ansley Pridgen (@ansleypridgen), Meghan (@shopwillowkids) & Elizabeth Schorr (@esandco.branding)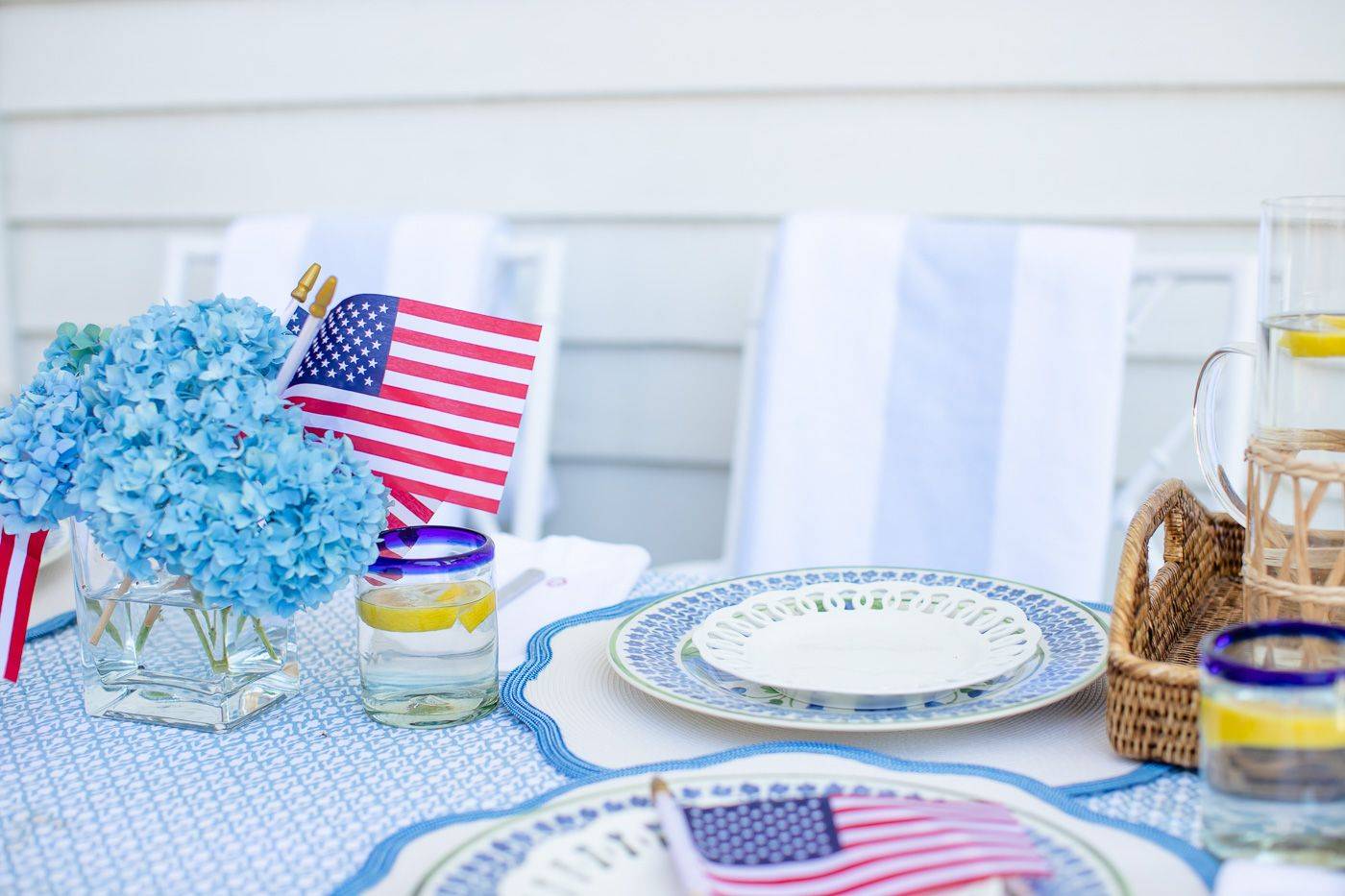 ---
Patterns: patterns or solids? Patterns.
Spot at the Table: Head of the table or in the middle? Middle.
Ideal dinner location: around the kitchen, outdoors, or a formal dining room? Outdoors.
Wine Glasses: Stemmed or stemless? Stemmed.
Serving style: Buffet, family-style, or served? Buffet.
Lighting: Candlesticks, candelabra, or votives? Candlesticks inside, votives outside.
Seating arrangement: place cards or rules be dammed? No placecards, but casual instruction for where we might sit. ;)
Atmosphere: Fancy without Fuss or Thoughtful but Casual? Thoughtful, but casual.
Music: classical, moody, upbeat, or fun mix? Fun mix.
Beverage of Choice: wine or cocktail? Wine.
Follow Tiffany on IG at @tiffanyolson.