The Fourth of July feels like the apex of summertime, the high point of a long weekend we've all been waiting for. Think ice-cold cocktails, outdoor barbecues, homemade ice cream, and sparklers for all.
This year may feel a little different, but social distancing doesn't mean we can't still celebrate this all-American holiday—one that seems to beg for outside fun and laid-back festivities.
We suggest you opt for a gathering of close friends or family, and create a laid-back soiree that is low in numbers but oh-so-high on style. So crank up the oldies, load up on sparklers, and set a red, white, and blue table that no one will forget.
PS: These striped masks will make memorable party favors for July 4th, 2020.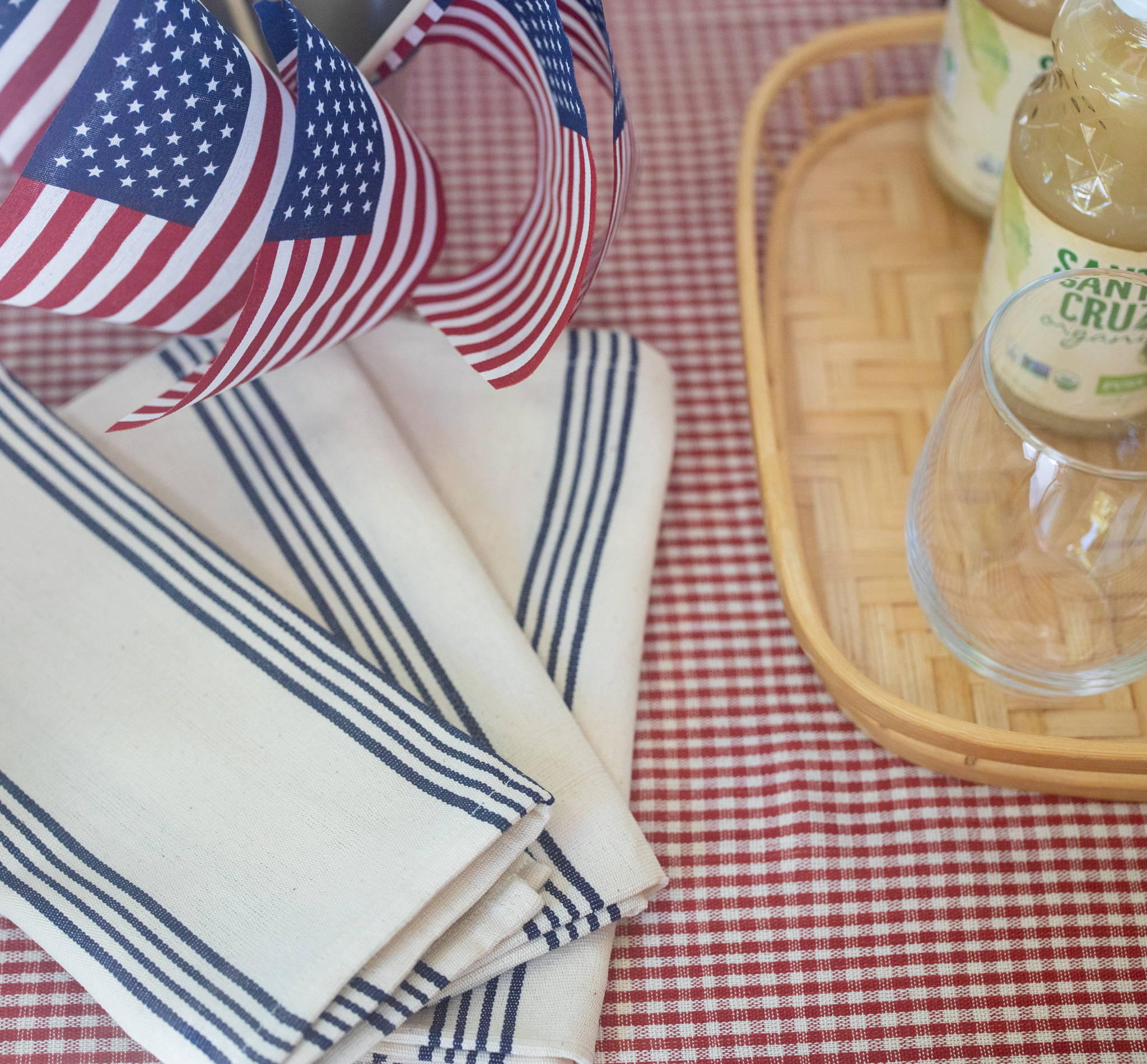 All-American Table Attire
The easiest way to set a theme, deliver a look, or create a visual memory around the table is with a beautiful tablecloth. Sophisticated table linens instantly elevate the simplest al fresco dinner party. For the Fourth of July, marry a classic red check with nautical blue stripes or French ticking for a look that's at once traditional and fresh. And don't worry—it's perfectly appropriate to mix patterns on your table, provided the color palette remains consistent.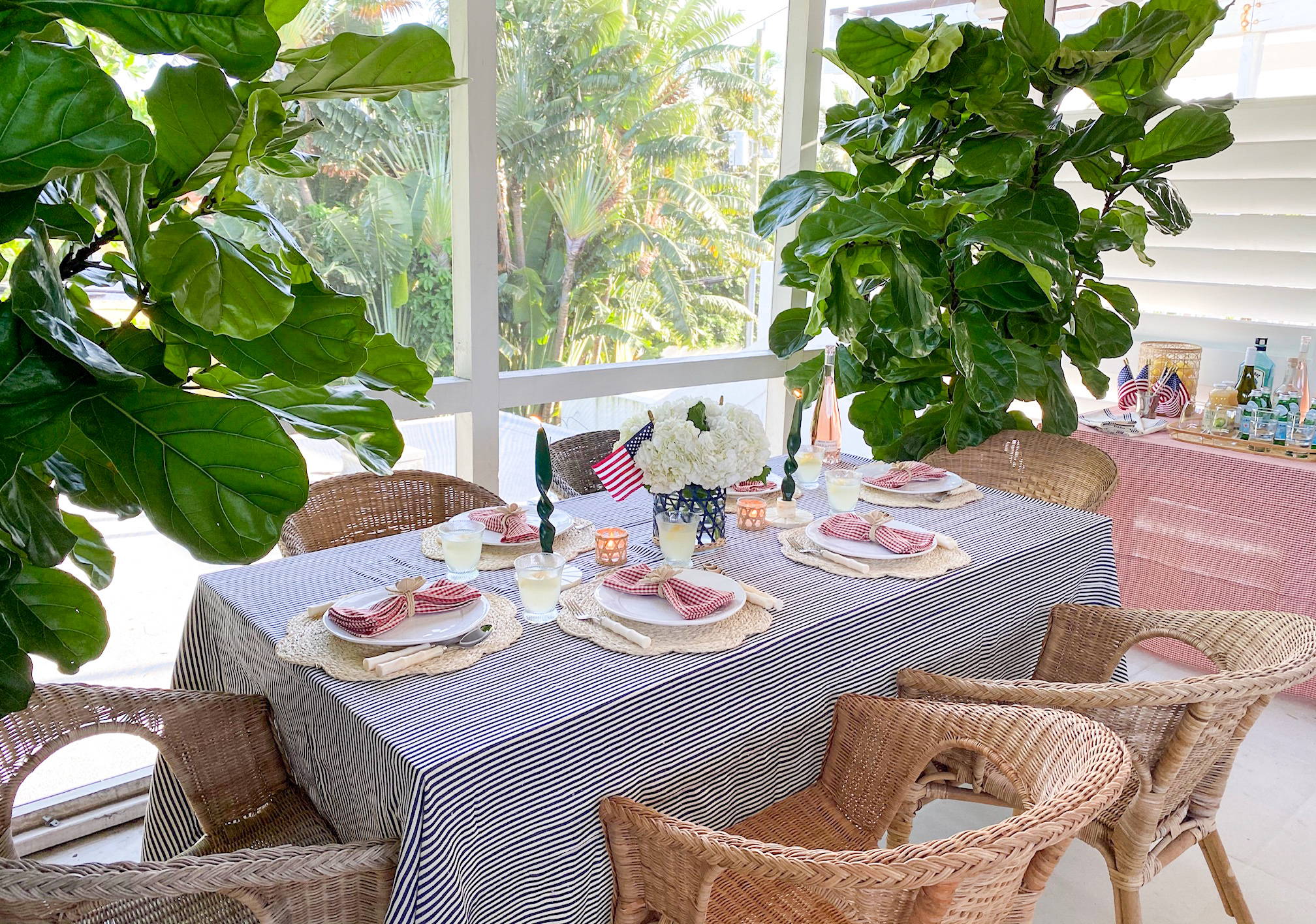 Natural woven placemats and napkin holders deliver a relaxed look that instantly says "summertime." Simple, white plates anchor each place setting, and we recommend continuity with white serving pieces that allow the bright colors of summer's loveliest produce (imagine red, ripe tomato slices, butter lettuce salads, and bright yellow corn) to shine.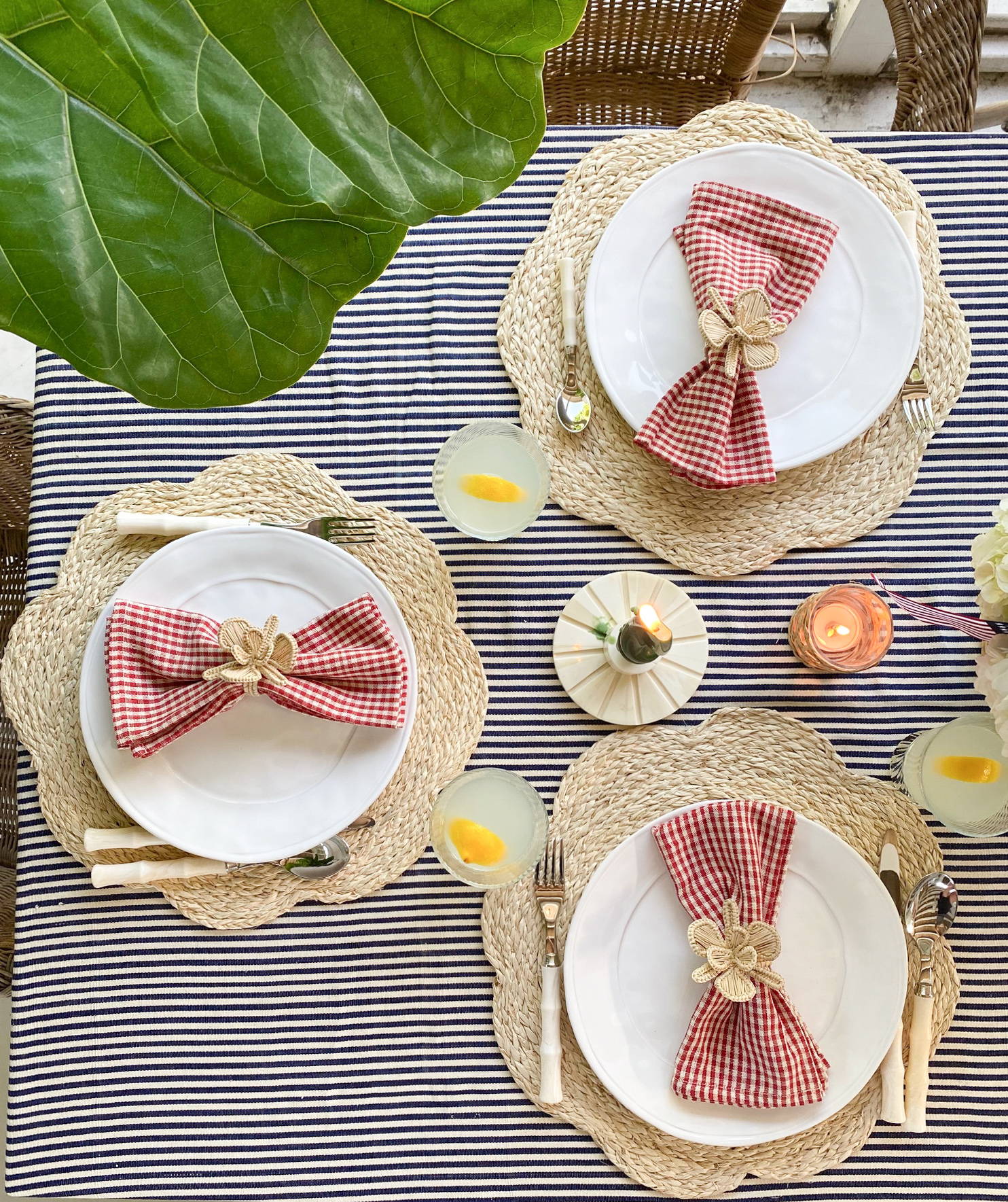 "I love the Fourth of July. It's casual and fun and always spent outdoors with good friends and family. It's also such a magical holiday for children, with sparklers and fireworks galore."

-Freshly Set Founder, Emily Painter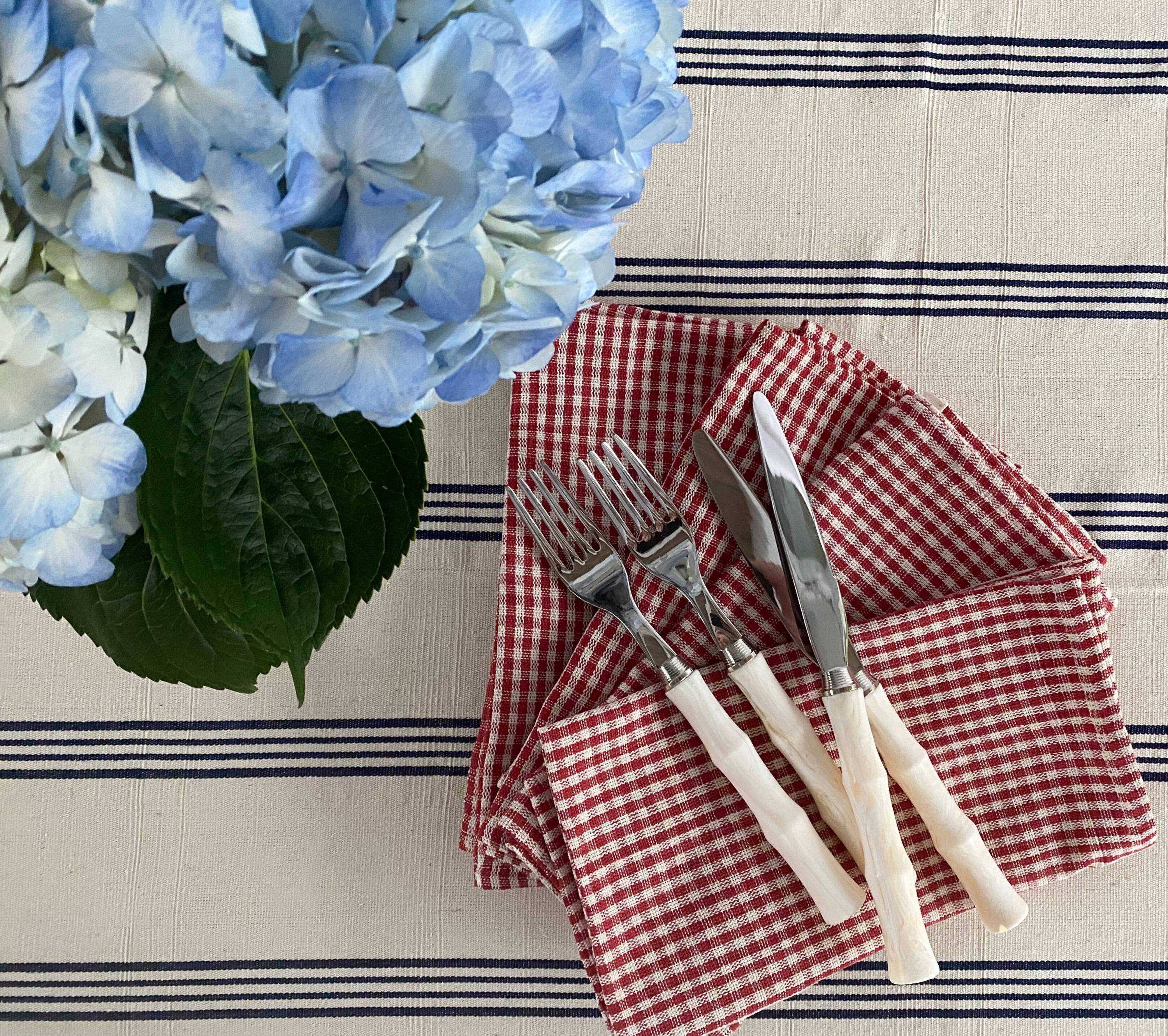 There's no need for fussy flowers on the Fourth. Keep your arrangements simple with choices that scream summer—like Ball jars full of white or blue hydrangeas, Shasta daisies or Black-eyed Susans. We suggest sticking to one flower type rather than mixing varieties. Go big with a single, central arrangement (a punch bowl or galvanized bucket can boast a whole lot of blooms), or deliver equal impact by lining a longer table with a parade of smaller vessels that hold fewer flowers.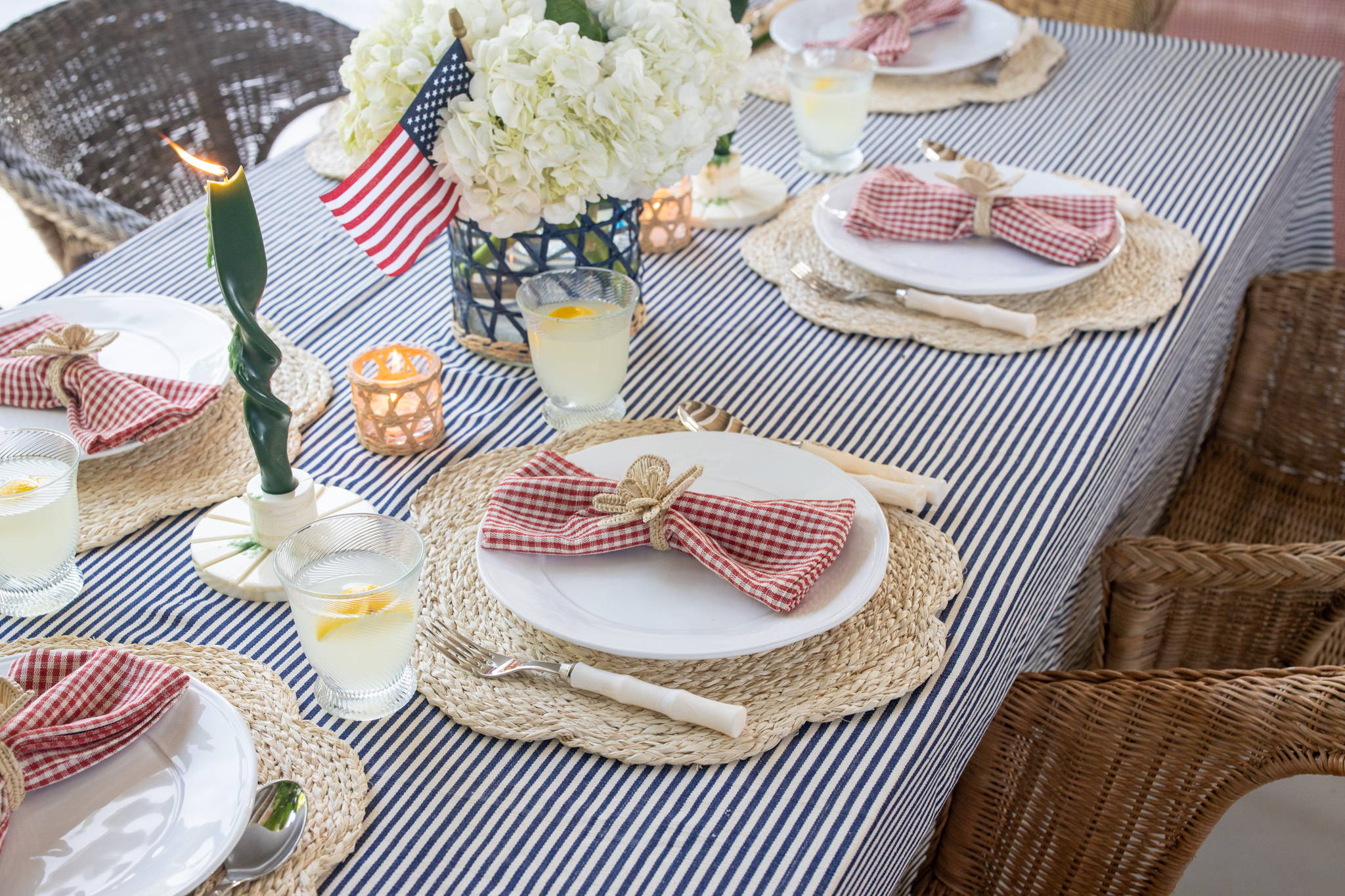 When it comes to table décor, don't forget the farmer's market and the artful produce of summertime. Fruit makes a lively—and affordable—statement on a tabletop. Add apples, lemons, or limes to clear vessels for instant color and casual charm. A few beautiful blue and white ginger jars filled with summer cherries double as table décor and sweet treats for your guests.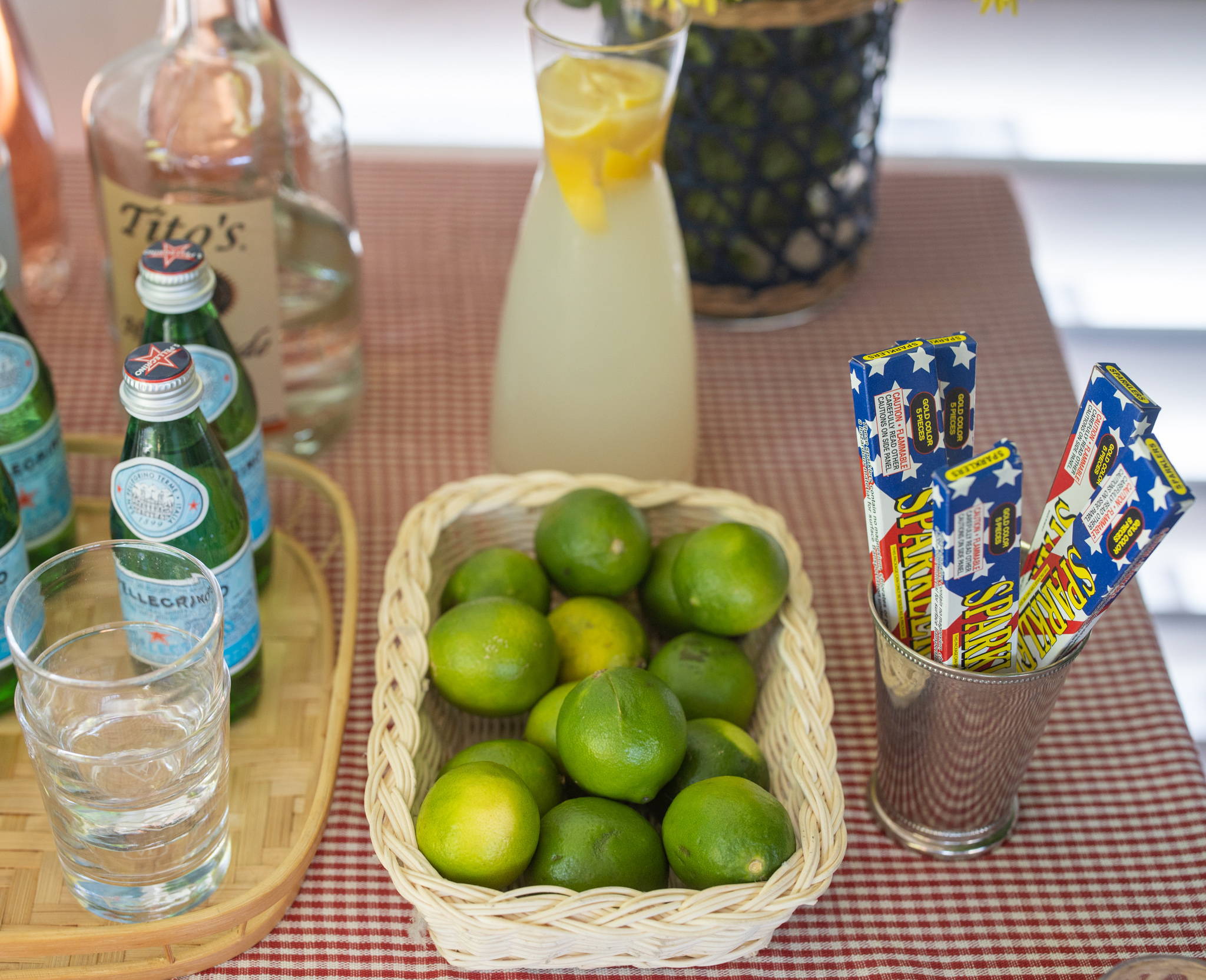 Whether you're serving barbecue, hamburgers or hot dogs, nothing says "all-American" quite like a buffet. But your buffet table shouldn't ever be an afterthought. Give your condiments and casserole dishes a place to shine, too. We suggest a secondary tablecloth in a corresponding color or pattern that echoes the outdoor dining table. Repeat a few of the bouquets and fruit displays here, too, for continuity. We like to fill a few mint julep cups with sparklers—the perfect "party favor" for a moment of fun before the real fireworks begin.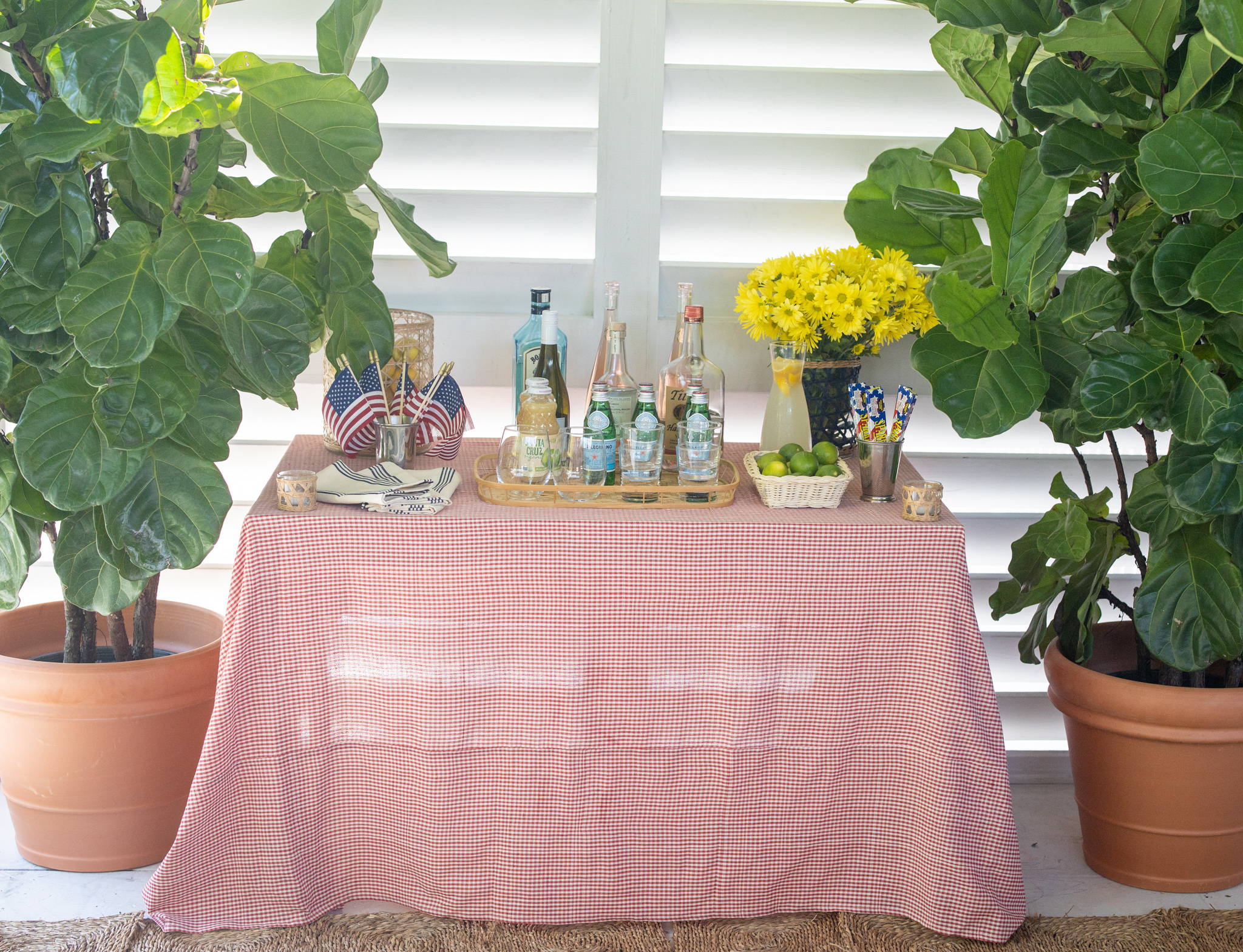 If your al fresco party is a grown-up affair, and you're hoping to elevate the table to a more elegant aesthetic, don't forget the candles. An arrangement of small votives delivers big impact and adds instant ambiance, especially at dusk. Or fill a few hurricanes with larger candles for a striking centerpiece. Simple, paper lanterns are an easy and affordable way to add visual interest overhead, too.