Table Talk with Allison Rolfes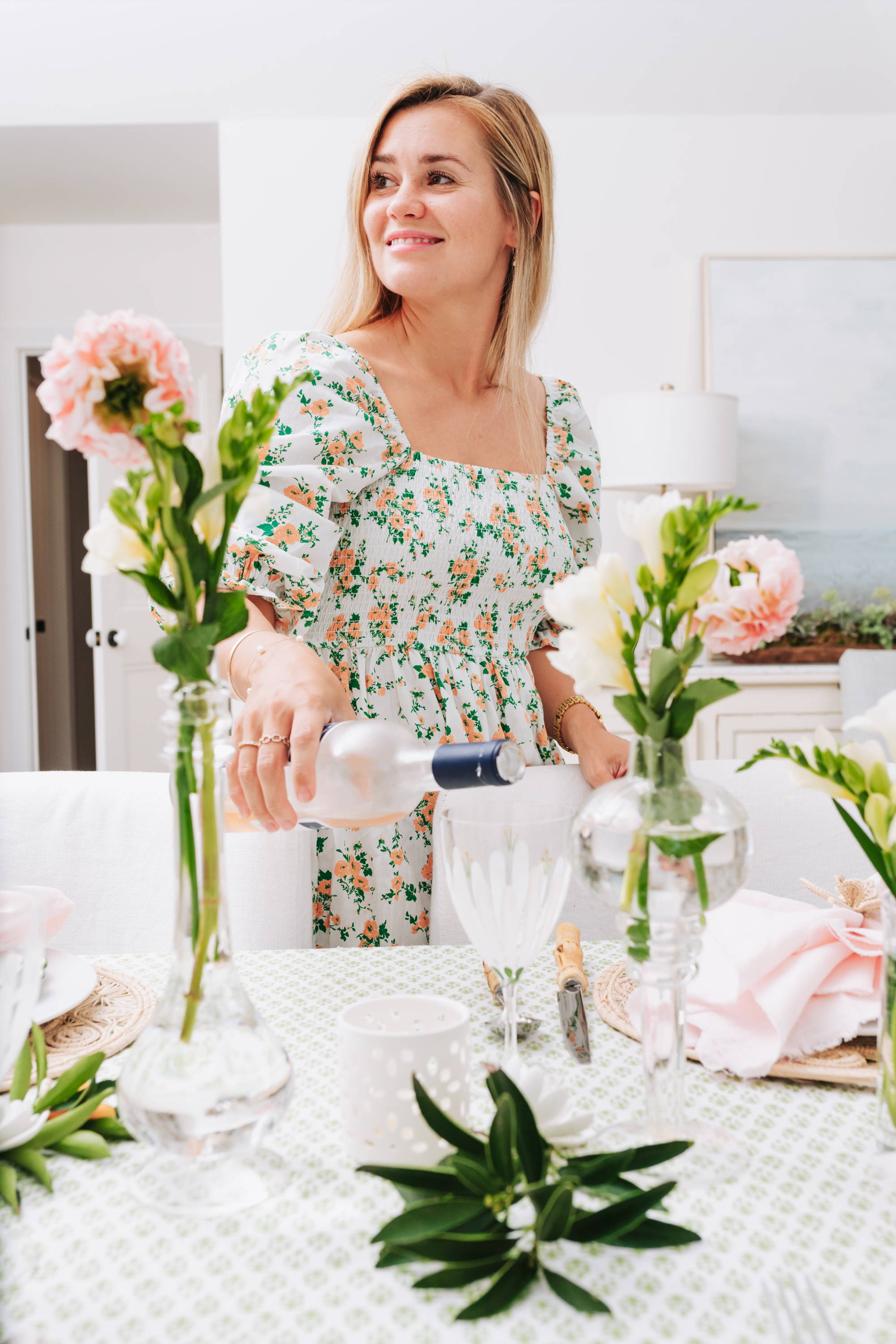 Allison Rolfes is the founder of ANR Creative Group, a boutique digital media & creative marketing agency based in Newport Beach. Previously Allison was a founding partner of Polka Dot Media, a boutique social media and digital content firm working with clients including Lauren Conrad, Gray Malin, Vanessa Lachey and LC Lauren Conrad for Kohl's.
Allison loves her morning coffee, surfing with her husband, traveling to far-flung islands, and tends to choose charm over practicality. Allison is also now the mother of an adorable 5 month old baby Boy.
Details about Photoshoot
"My mom and I decided to set the table for a Saturday afternoon mother-daughter lunch. My mom is the ultimate hostess and helped me style the table and fill the small bud vases with dahlias and summer blooms. My sister @cucinamissmeliss cooked for us and made a delicious passion fruit tart from scratch. I'm a new mom and I take my 4-month-old baby boy everywhere with me –– he joined us at the table as well! Our afternoon was photographed by my friend and photographer @marikacreative."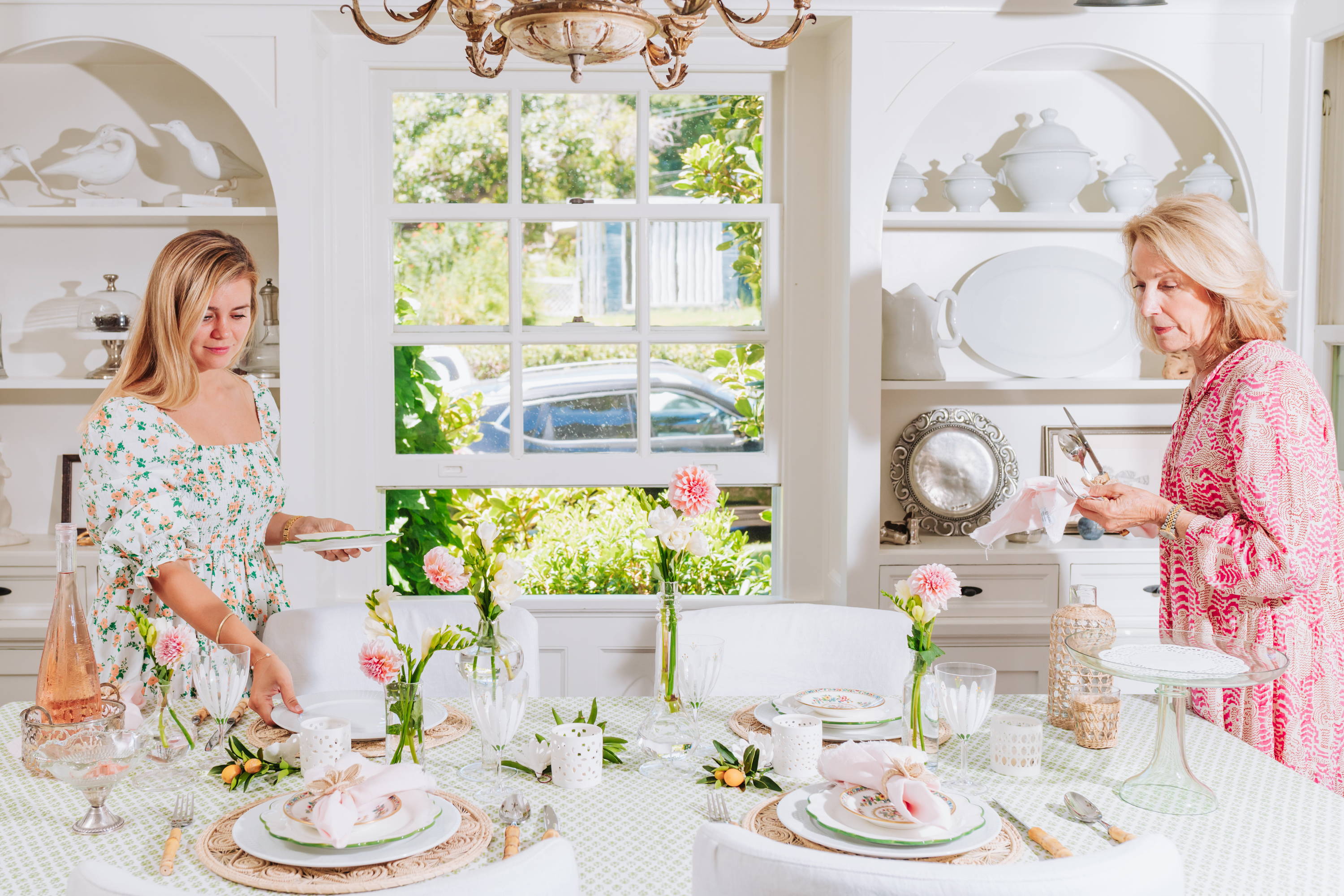 What makes a wonderful party host?
A wonderful party host is one who stays relaxed and confident and doesn't get easily frazzled when things go wrong. You always want to make your guests feel at home. It's not about perfection, but making people feel comfortable and creating an ambiance. When the host is relaxed, it sets the tone for a fabulous evening.
Who do you think the most skilled and gracious party hosts are?
My sister @cucinamissmeliss creates the most spectacular, gourmet Italian menus! She has been spoiling our family with made-from-scratch summer dinners all season long.


What is inspiring you right now?
Throwing small dinner parties with my mom and sister at my parents' home in Laguna Beach, @thewhiterosecottage. I've also been antique shopping at the orange circle lately, and they have the best treasures; from silver candlesticks to vintage Wedgwood Jasperware.
What are your favorite entertaining pieces in your home?
I love my dining room table — it was the first expensive piece of furniture I bought for my apartment after graduating college. It's come with me everywhere I've lived since then, and is now in my and my husband's home. It's where everyone gathers, and it has drop-leafs to transition from an intimate group of 6 to a party of 12.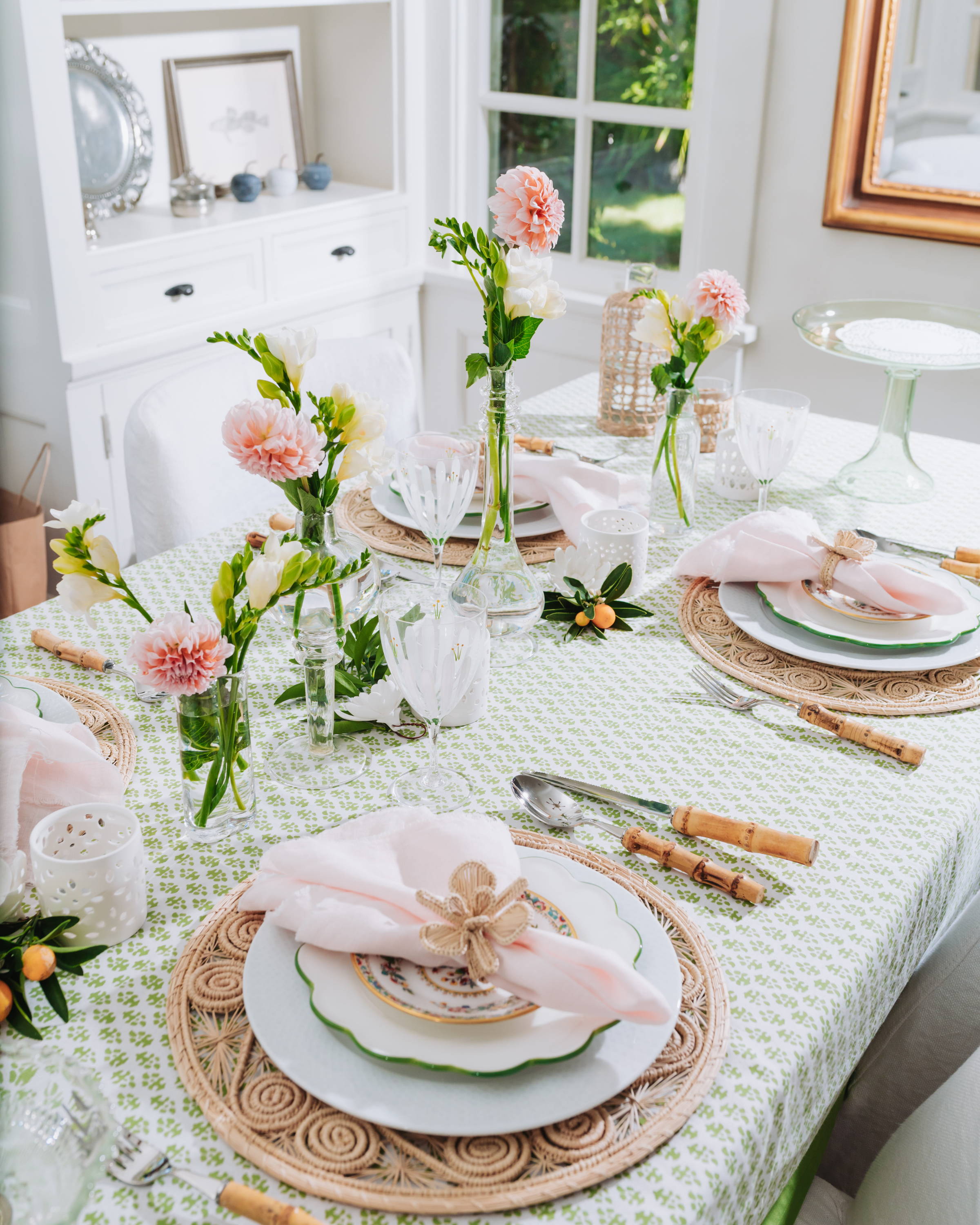 What is your home decor style?
I'm a true East Coast meets West Coast girl: Newport Beach meets Nantucket. I lean more traditional with patterned upholstery and classic rattan and bamboo pieces, but I like to inject a few coastal touches here and there.


What are your current three four favorite finds from the Freshly Set websites?
The @lindrothdesign batik green tablecloth paired with the @celina_mancurti pink linen napkins, then topped off with the Iracha Placemats and Orchid Napkin Rings.
Who are your dream dinner party guests?
I'd love to host a ladies lunch with some of my insta friends whose style I admire @beckyboyle, @kristenellenmartin, @abbyl_ward, @amy_stone and I'd have my bestie @jillian_eversole be my co-host! She and I hosted many dinner parties when we lived together in Santa Monica.
Your go-to hostess gift?
A potted myrtle or boxwood topiary or a hand-painted water carafe from @petra_palumbo. I recently received a glass cake stand from the black-owned, woman-owned business @estellecolored glass, which was a beautiful hostess gift to receive.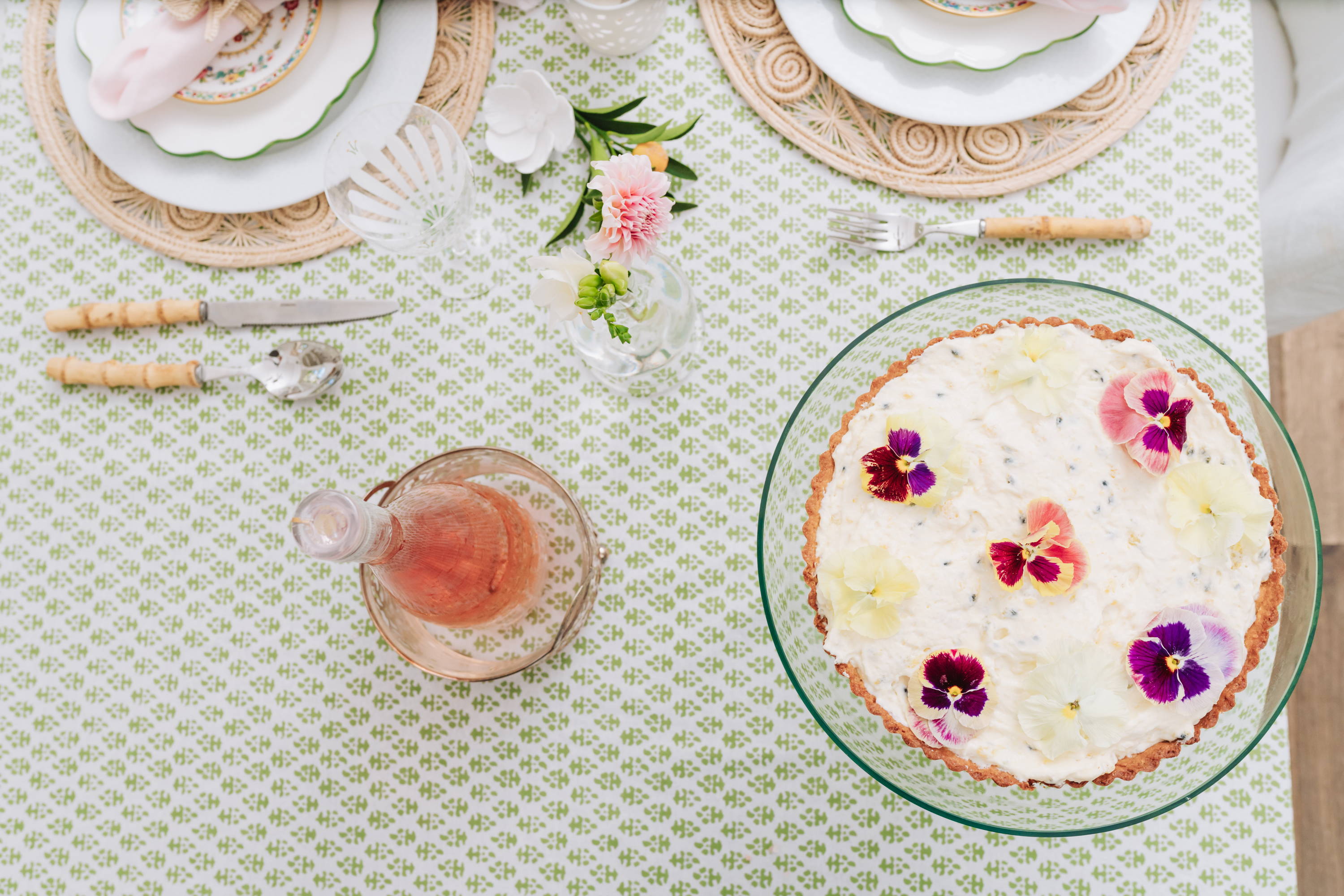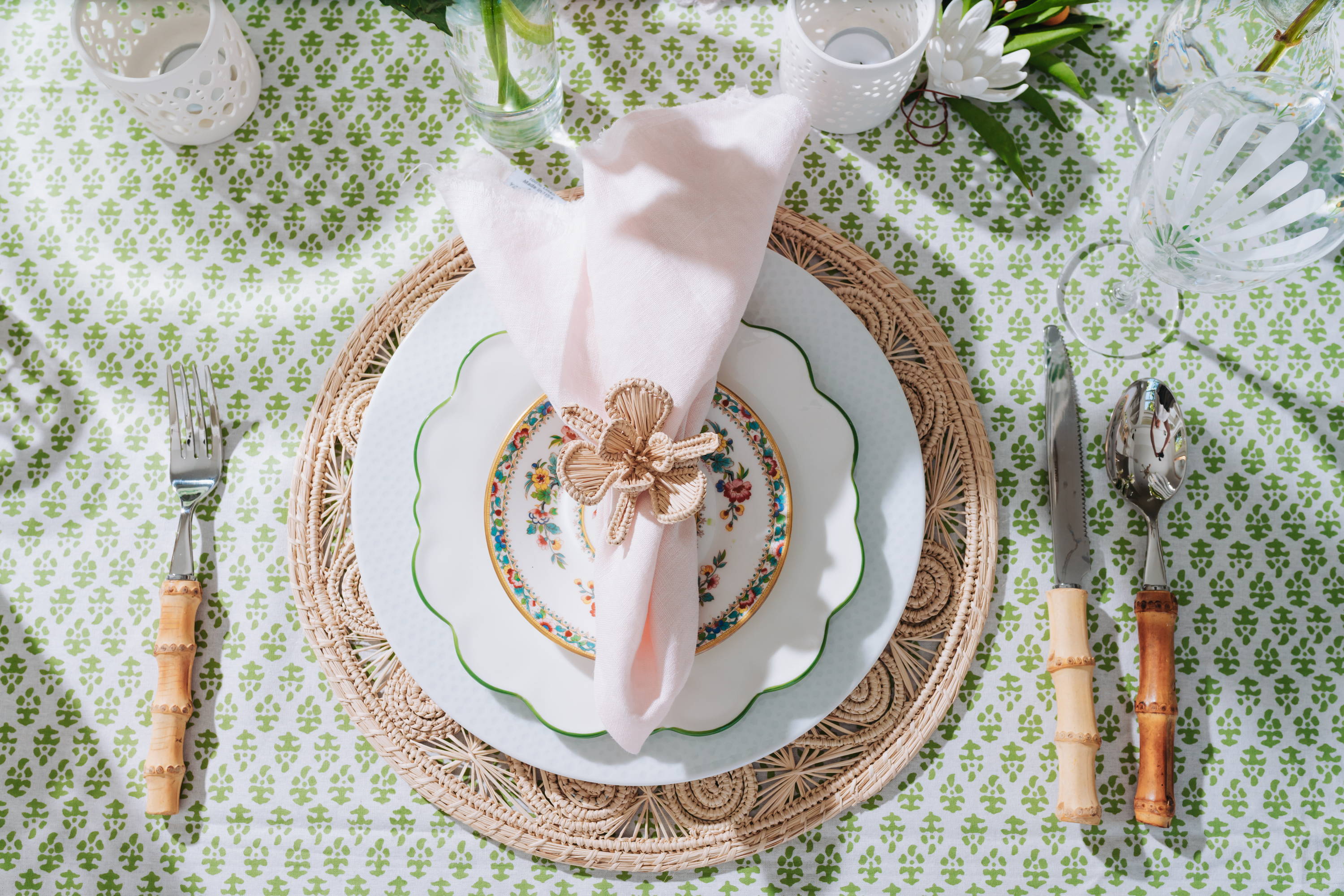 What is the most inspiring event you ever attended and why?
Fashion Week in New York City. I've attended 5 seasons over the years and I always leave inspired.
Words to live and entertain by?
Don't get so hung up on the details that you forget to enjoy the party.
AND

Your crystal and China have much more fun on the table than in the cabinet!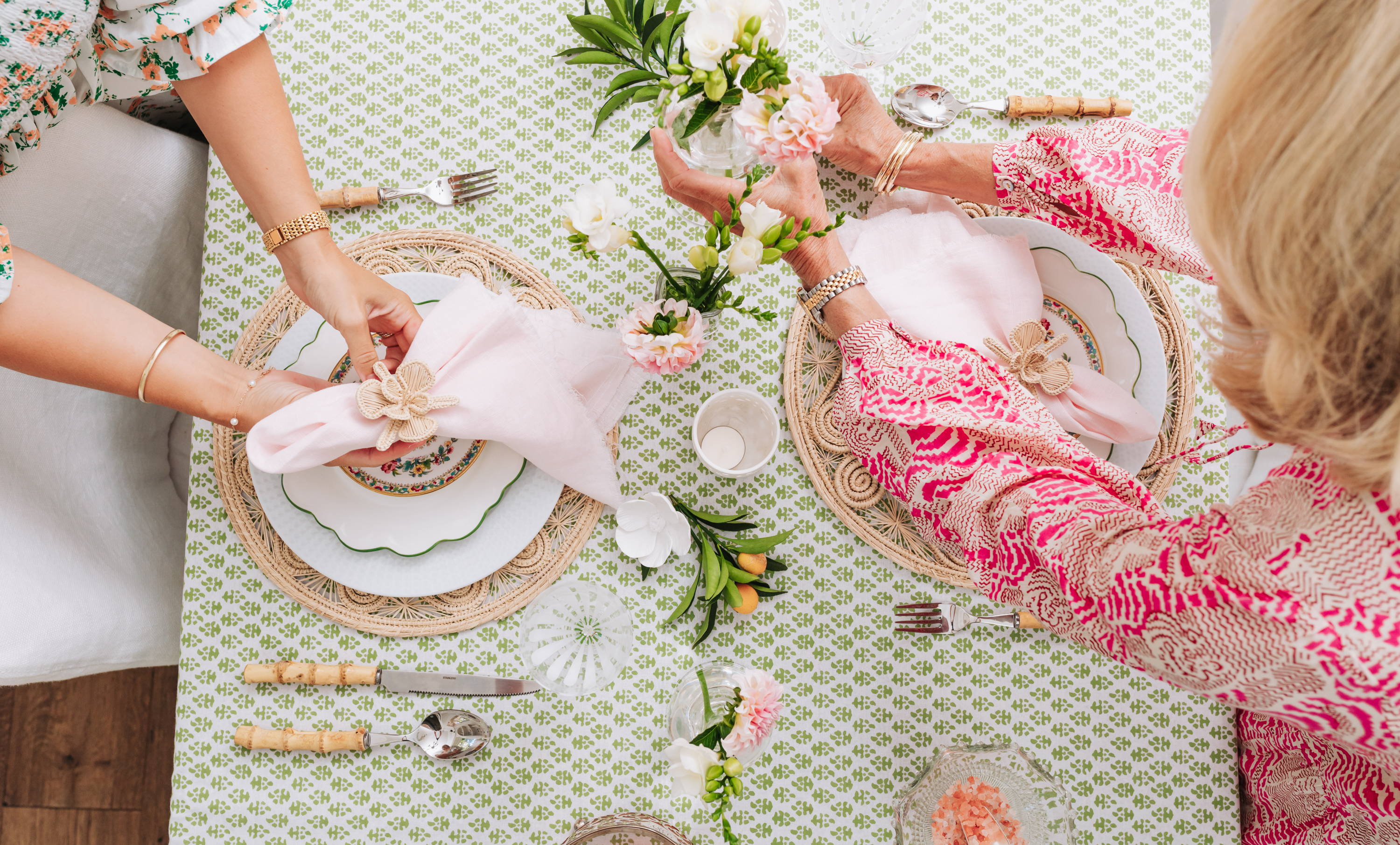 Patterns: patterns or solids?
Patterns
Spot at the Table: Head of the table or in the middle?
Middle
Ideal dinner location: around the kitchen, outdoors, or a formal dining room?
Outdoors
Wine Glasses: Stemmed or stemless?
Stemmed
Serving style: Buffet, family-style, or served
Family-Style
Lighting: Candlesticks, candelabra, or votives?
Votives
Seating arrangement: place cards or rules be dammed?  
Place Cards
Atmosphere: Fancy without Fuss or Thoughtful but Casual?
Thoughtful but Casual
Music: classical, moody, upbeat, or fun mix
Fun Mix
Beverage of Choice: wine or cocktail?
Wine