Table Talk with Annette Joseph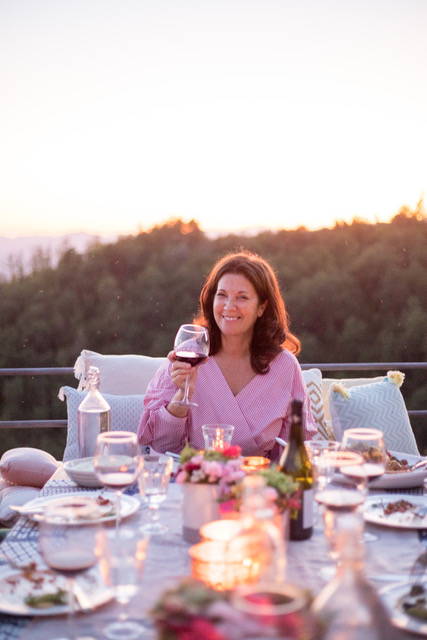 Annette Joseph is an expert on entertaining, cooking, and styling. She regularly appears on The Today Show and Martha Stewart Sirius Radio. Her recipes and party ideas have been featured in Better Homes and Gardens, Epicurious, DesignSponge, MSN, The Huffington Post, Southern Living, and Woman's World among others.
She now enjoys sharing the many ideas, tips and tricks she has gained as a nationally recognized photo stylist/producer specializing in lifestyle editorial images for magazines. With over 20 years experience, her expertise includes photo styling for interiors, food propping and special production projects.
Annette has written several books including Picture Perfect Parties, Cocktail Italiano & Italy Is my Boyfriend.
Annette currently splits her time between Atlanta, Georgia and her home in Italy with her husband and 2 children.
What makes a wonderful party host?
Hosting a party is like conducting and orchestra, you need a great mix to make beautiful music. It's very important to pick a group of guests that have some commonality, and enough differences to make conversations interesting.
Who do you think the most skilled and gracious party hosts are?
My friend Steve Mckenzie and his wife Jill, they are amazing warm people and they are natural hosts.
Karen Mooney, VP at Ballard Design is a fun host she does the best parties.
William Peace and his wife Malissa are chic hosts, and love great wine. They always make everyone feel comfortable and well taken care of.
Timothy Corrigan, my favorite bonvivant, lives large in France, his parties seem epic.
Yolanda Edwards founder of The Yolo Journal, loves a nice Negroni and a wood fired Pizza, a woman after my own heart + she's a major Italiophile.
I had the pleasure of working for Gwyneth Paltrow 10 years ago and we have maintained a nice relationship, she's and amazing cook, a great entertainer. Always easy and very California casual in the best possible way.
What is inspiring you right now?
Our new house in Italy inspires me these days. I do so much cooking and entertaining there, that inspires all the food drinks and tablescapes are the common thread in everything I do in Italy and in the US.
What are your favorite entertaining pieces in your home?
I am a big fan of the farm table. I have been using all sorts of layer
ed table linens these days. I am obsessed with brass candlesticks and have started collecting vintage ones from flea markets all over Italy.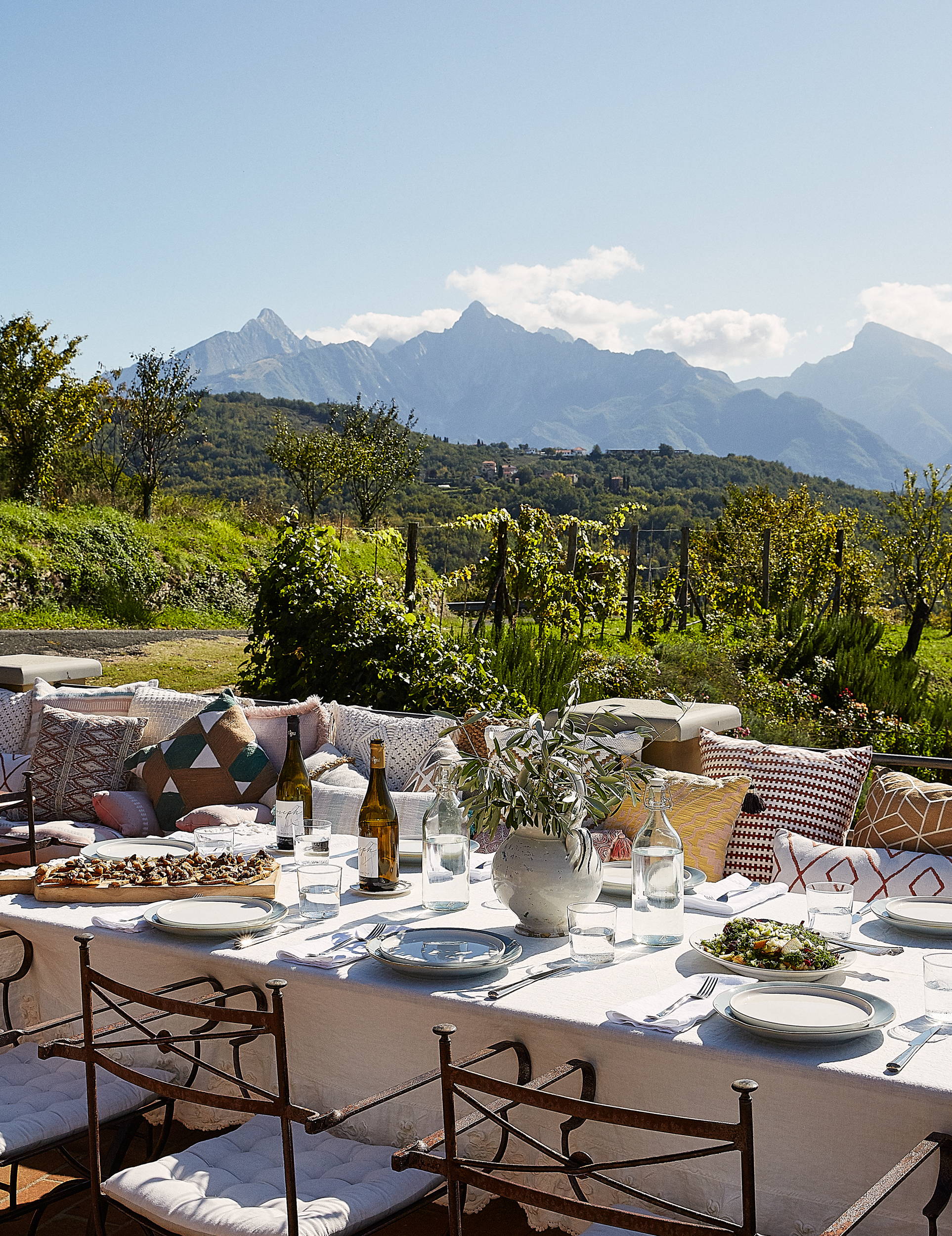 What is your home decor style?
Our homes are very "collected" my favorite magazine is World of Interiors so I am one for acquiring décor. I love textures so all of our homes are highly textured. I love patina, old stone, textured walls and tile, wood beams are always a part of the visuals. I also LOVE to repurpose so I have tons of objects that are repurposed in both houses.
My all time favorite repurpose project is the antique tin travel bath tub I used as a chandelier over the dining table at La Fortezza, our Italian home.
What are your current three favorite finds from the Freshly Set websites?
The Penny Morrison Simla Tablecloth, Tensira Red Gingham Napkins, Twirl Candles, Pomegranate Jade Paisley Tablecloth and napkins, Tensira's Tripe Stripe Tablecloth and Napkins and the Fete Home Abaca Placemats.
Who are your dream dinner party guests?
Living and Dead? I like this question

1. Pablo Picasso, loved wiener dogs like me.
2. Andy Warhol
3. Wes Anderson
4. Tina Fey
5. Chef Massimo Buttaro and his family
6. Anthony Bourdain
7. Julia Child
8. Lady Gaga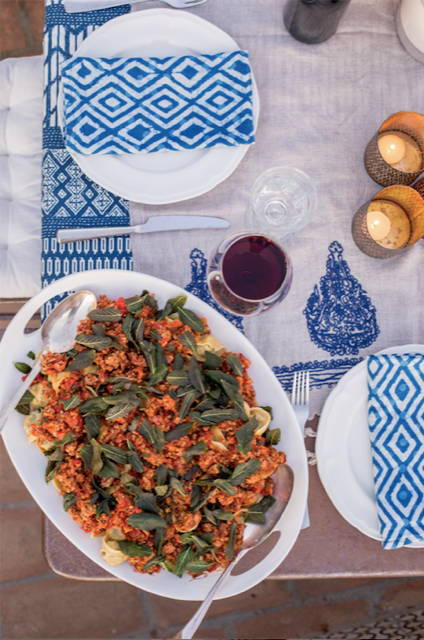 What are your butler's pantry staples?
In my book Picture Perfect Parties, Rizzoli NY, I actually offer a list of stylist staples for your panty, I call it a Party Panty.
Here's the list: Building Your Party Pantry.
First off don't buy a thing! I want you to look at what you own. Here are the basics you will need to create any party in this book. I want you to look at everything in your home, things in your living room and den, even the things in your bedroom and foyer or garage and yes of course the basement. I want you to shop your home for useable objects and items, think about repurposing and using things in a whole new way. Here's what I would like you to look for.

1. 3 Baskets, wicker and or metal
2. 3 Trays or flat objects that are food safe and could be scrubbed and used to plate or gather food. I love white enamelware, I find mine online or at flea markets, 1 rectangle 1 square 1 round.
3. 12 Glasses, anything the more mismatched the better
4. 12 wine glasses both red and white 12 champagne coupes12 champagne flutes, these can be from a flea market, and mismatched
5. 2 Wood surfaces, like planking or old cutting boards, 1 rustic, 1 smooth
6. 4 Tile, old tiles can be used as platters for cheese or appetizers
7. 2 Chalkboards and old signs, anything that you could write on to use to write menus or
messages to your guests.
8. Ribbon and string and yarn and twine and raffia and ribbon
9. Wrapping paper, it makes great table runners, or wrapping vases
10. Galvanized or enamel buckets, great for flowers, napkin rolls, breadsticks, or French bread 1 large 1 medium 1 small
11. Vases, garden pots
12. Bottles and jelly or mason jars, (I like to save jam jars and run them through the dishwasher) all sizes
13. 1 of each Small, medium and large Plates and platters
14. 3 of each Small, medium and large bowls
15. Metal containers, wood containers
16. 4 of each Small and medium wood crates or small fruit crates/baskets from the grocery
17. 3 yards of each Old pieces of Fabric, for runners and table cloths, burlap from the garden shed
18. Old napkins, and tablecloths, (I like to over dye old thread bare linens)
19. Mugs, tea cups
20. Muffin tins and old baking pans
21. 12 white dinner plates
22. 12 dessert plates
23. 12 appetizer plates
24. 10 Espresso cups
25. 10 Coffee cups
26. 12 white bowls for soup or dessert or salad
27. 12 white dessert plates
28. 12 knives, fork, spoons, dessert spoons, dessert forks
29. Small wooden servers, for jams, and spreads
30. Mismatched flatware for serving meats and condiments
31. 12 White and Natural Linen napkin * if you do not have these you should purchase them
32. Linen tablecloths, 1 white and 1 dark linen * if you do not have these you should purchase them
33. Cocktail shaker
34. 10 Martini glasses
35. novelty toothpicks
36. 2 white cake plates small and medium, 1 color cake plate
37. Pie server, ice cream scoop
38. 8 placemats, I only like placemats for breakfast or lunch or a very casual dinner. NOT parties.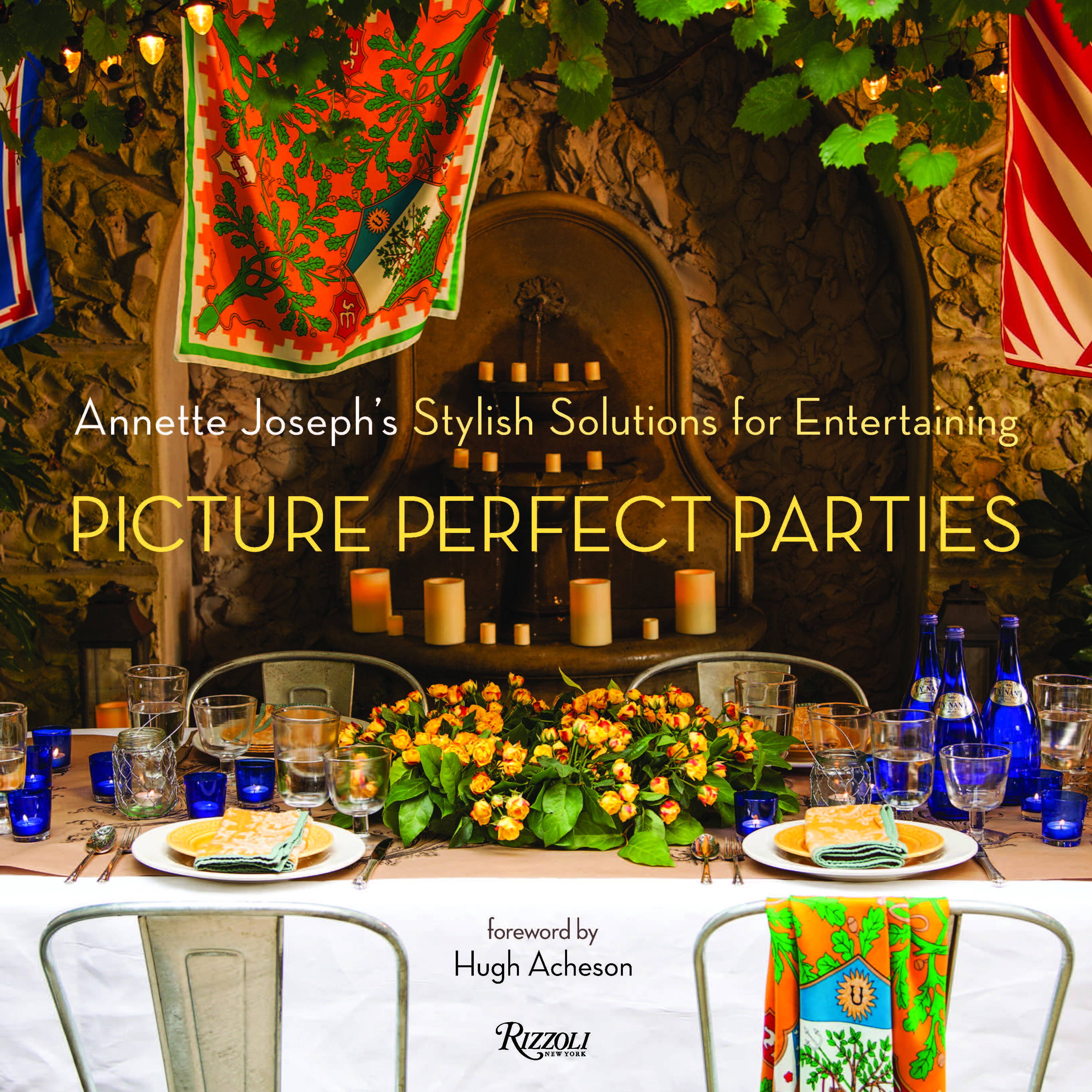 Acknowledging each guest as they enter your party is the most important job of a host.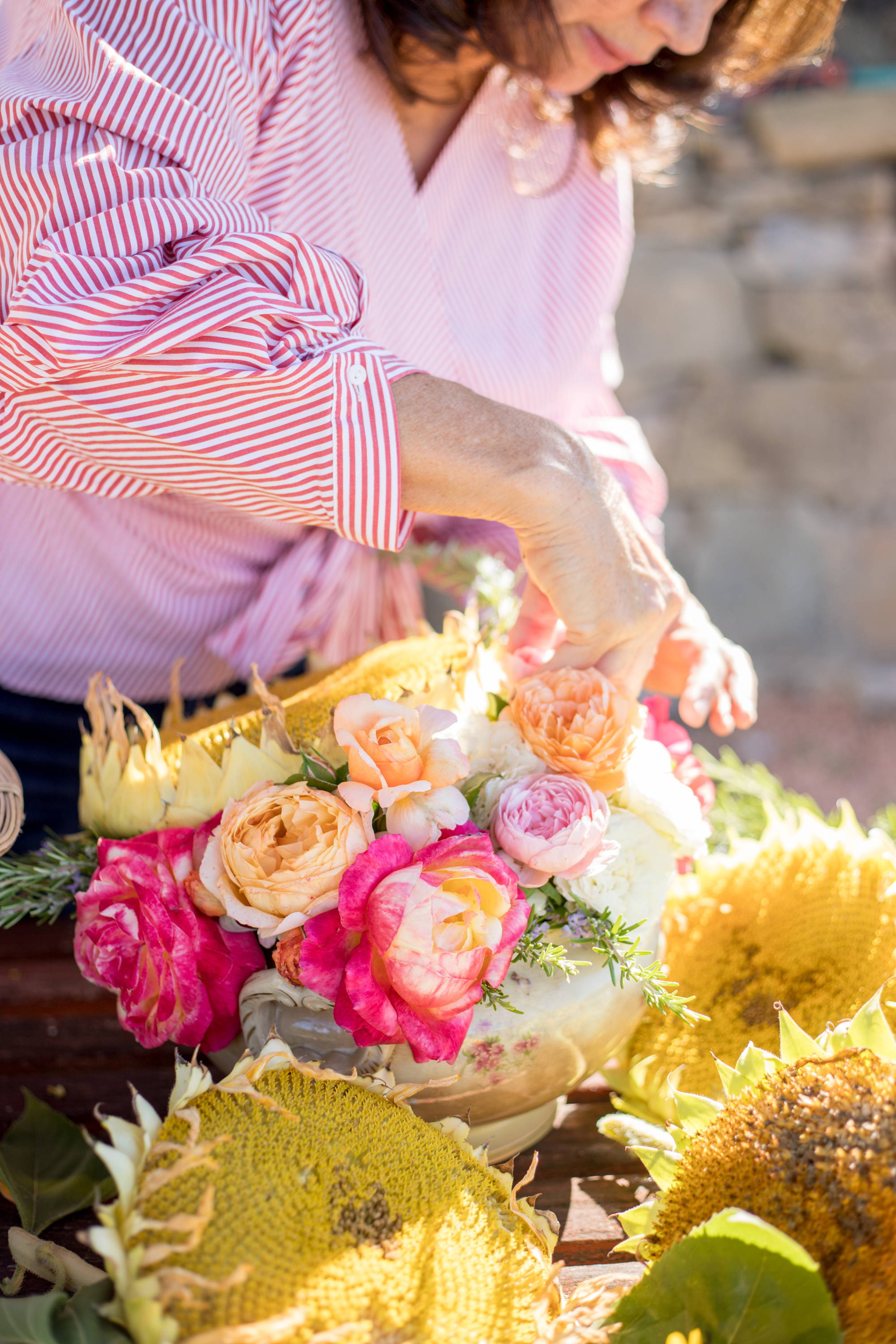 What makes a great guest?
Being a great guest means arriving on time. Mingling well which means being gracious and entertaining and interesting. I think that interesting guests are the best guests.

What makes for a bad guest?
I think arriving late is a faux pas. Showing up in a bad mood or being argumentative with other guests. It's a low bar, I really just expect people to show up on time be pleasant.

What is the greatest party you have ever thrown and why?
That's a tough question because I throw so many parties. I would have to say that our daughter's Engagement party, everyone wound up in the pool, it was beautiful and crazy fun.

What is the number one rule every good host or hostess must remember?
Acknowledging each guest as they enter your party is the most important job of a host.

Your go-to hostess gift?
I love bringing my book Cocktail Italiano, Skyhorse Publishing, or an interesting Italian Amaro, like Fernet, or Cynar.

What is the most inspiring event you ever attended and why?
Probably or friends marriage in Mykonos, every event was themed yet very effortless, best event was a private beach picnic, it was an amazing weekend.

If you could invite six insta friends to your next party, who would they be?
David Loftus , Douglas Friedman, Martha Stewart, Linda Fargo, Ros Atkinson, Stephen Orr

Words to live and entertain by?
Relax and Enjoy!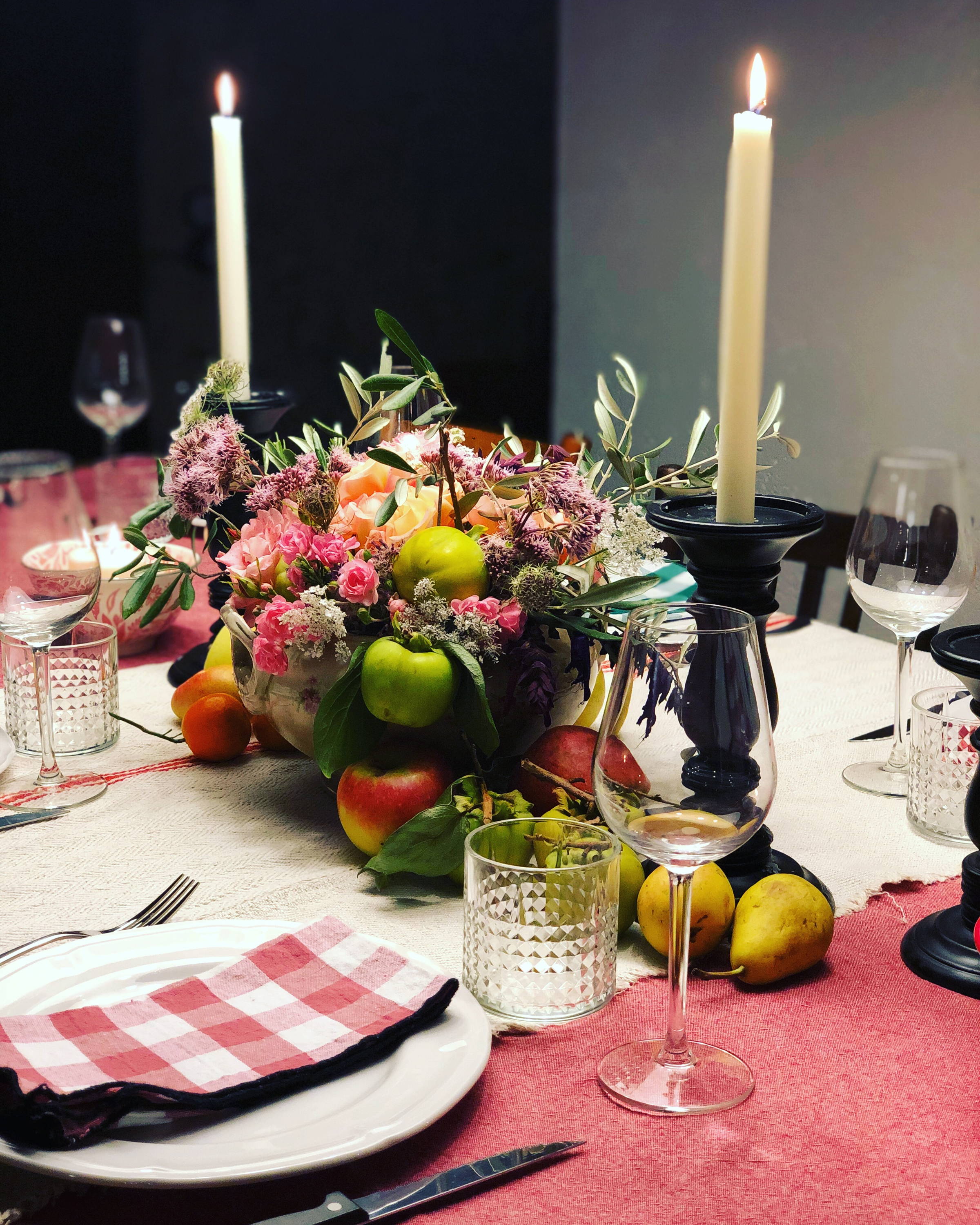 Patterns: patterns or solids?
Both
Spot at the Table: Head of the table or in the middle?
We always move around the table to visit with everyone.
Ideal dinner location: around the kitchen, outdoors, or a formal dining room
Always on the terrace at our house in Italy, the view is insane.
Wine Glasses: Stemmed or stemless?
Both
Serving style: Buffet, family-style, or served
We do both, but for large parties I prefer buffet.
Lighting: Candlesticks, candelabra, or votives?
All.
Seating arrangement: place cards or rules be dammed?  
Small group no place cards, large groups place cards for sure.
Atmosphere: Fancy without Fuss or Thoughtful but Casual?
Casual, but always very styled, I love thought out layered tables and gorgeous flowers.
Music: classical, moody, upbeat, or fun mix
I like a playlist that starts slower, builds up to lively and fun, then winds down. It signals that the party is over to the guests.
Beverage of Choice: wine or cocktail?
Both, we start with a signature cocktail and wine with dinner.