Table Talk with Erica Key
Erica Key is the editor-in-chief and founder of Eating with Erica. She founded Eating with Erica in 2013 due to her love for the Atlanta food scene. Erica is an award-winning Atlanta-based blogger with a passion for all things dining, entertaining, and food. When she isn't blogging, she's traveling, volunteering, watching Criminal Minds or Law and Order SVU while enjoying a glass or two of champagne. She never passes up an opportunity to share her insight with other bloggers and influencers! Erica has worked with Good Morning America, Ciroc Vodka, Draper James, Lexus, Verizon, Samsung, Bath & Body Works, Sephora, Lamarca Prosecco, Double Cross Vodka and more.
What makes you a wonderful party host?
I am welcoming and a well-equipped multi-tasker. I work hard to make sure even first-time guests feel like they've been coming to my events for years. When issues arise whether they are little or small, I quickly put out fires before the guests even know there is smoke.
Favorite Freshly Set Items?
Heron Blue Place Card, Caroline Blue Tablecloth, Caroline Blue Napkin
Who do you think the most skilled and gracious party hosts are?
@peachfullychic, @cherrypickedstyle, @titispassion, @camil
What is inspiring you right now?
Pivoting during a pandemic. These are hard times for everyone. I am inspired by my own drive and others in this industry who have demonstrated their ability to adapt and overcome.
What are your favorite entertaining pieces in your home?
Tiffany Wine Glasses, Etu Home Charcuterie Board (@etuHOME), Eating with Erica Candles (ewe_home), @TheMutedHome silverware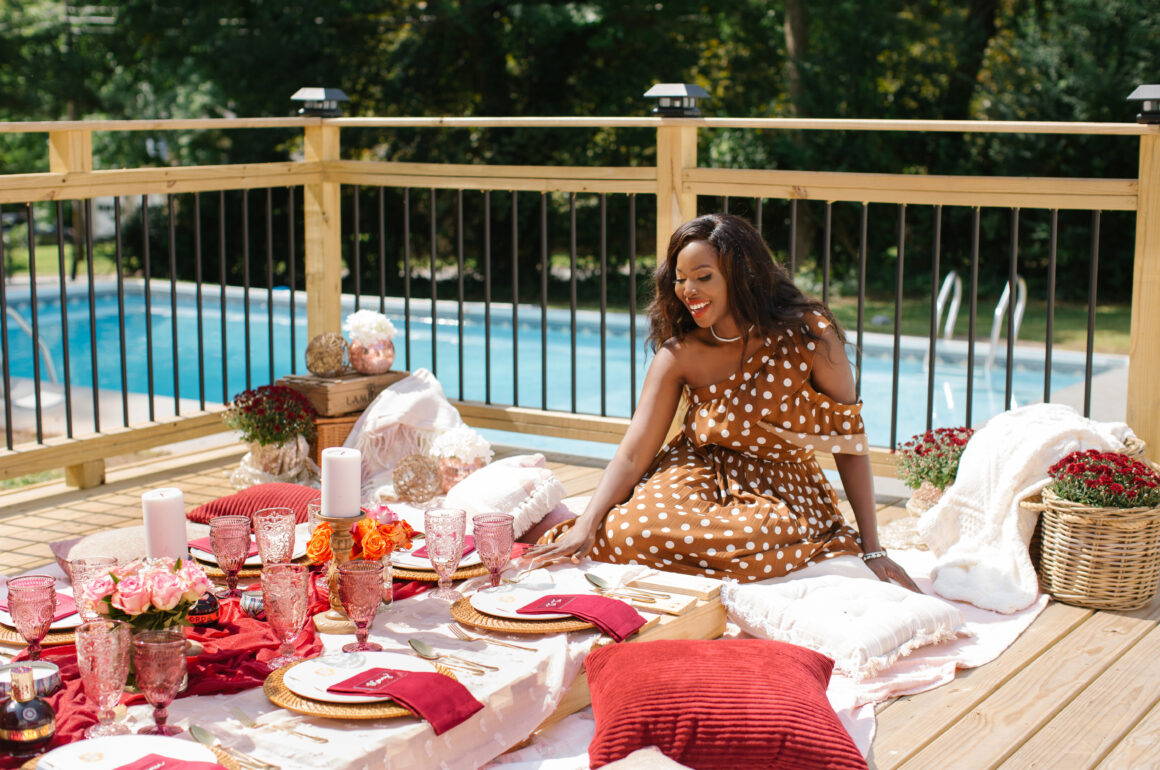 What is your home decor style?
Modern with a dash of Southern
What is your entertaining motto?
Champagne helps everything go down easier.
Who are your dream party guests?
Michelle Obama, Lynn Whitfield, Patti LaBelle, Maxine Walters
What makes a great guest?
Someone who enjoys good food, is polite, and loves colorful conversation.
What makes a bad guest?
Someone who is late, shows up coherently drunk, or is overly inappropriate.
Your go-to hostess gift?
Eating with Erica Candles (ewe_home), Rebecca Martin Pottery (@rebeccamartinpottery)
What is the most inspiring event you ever attended?
The cure for childhood cancer benefit at the St. Regis. I am lucky enough to attend many lavish events. The benefit at St. Regis stood out to me not because of the beautiful decor or amazing food but because of the amazing cause that we supported that evening.