Table Talk with Jennifer Hunt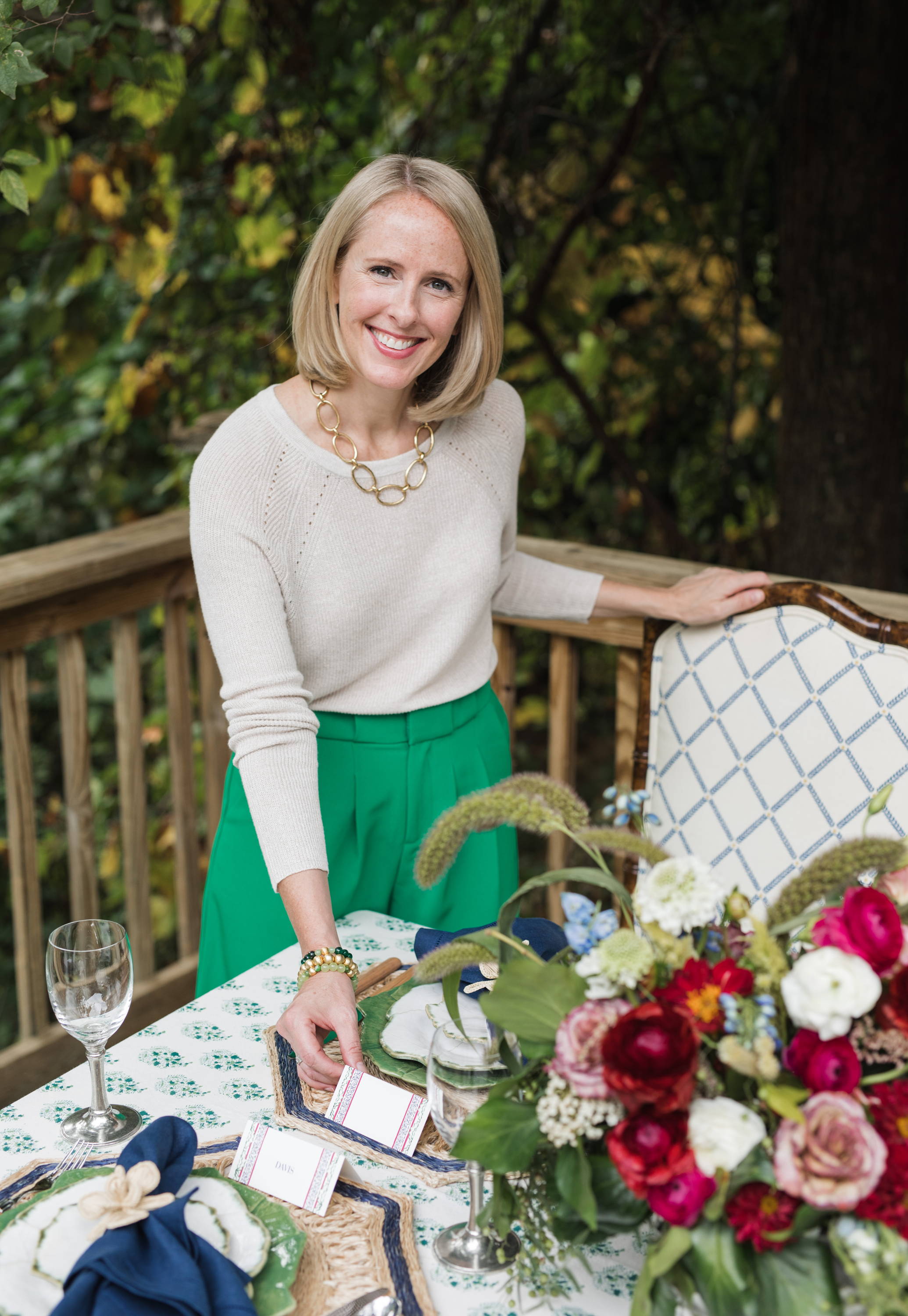 What makes a wonderful party host?
A wonderful party host is someone who is prepared before guests arrive so they can enjoy the party and not stress about details. I always try to remember that guests enjoy the company the most, so sometimes I have to let small details go.
Who do you think the most skilled and gracious party hosts are?
Taylor Turner, owner of @hazenandco, throws amazing parties. They are flawless, beautiful affairs and Taylor makes it all look effortless. I would also LOVE to go to a party at @mrsalice's house!
What is inspiring you right now?
We are reviewing our 2021 spring and summer art and I'm inspired by it all! Whimsy, bright colors, fun details – it's all there and will make the most beautiful collections.
What are your favorite entertaining pieces in your home?
I love to use fine china, crystal and silver, no matter the occasion. Along with my own, I have my mother's and grandmother's china and crystal and my mother-in-law's silver. I started collecting Royal Copenhagen Blue Fluted a few years ago so I enjoy mixing up what I use depending on the occasion and season. Tip: I put almost everything in the dishwasher and use a gentle cycle with no heat.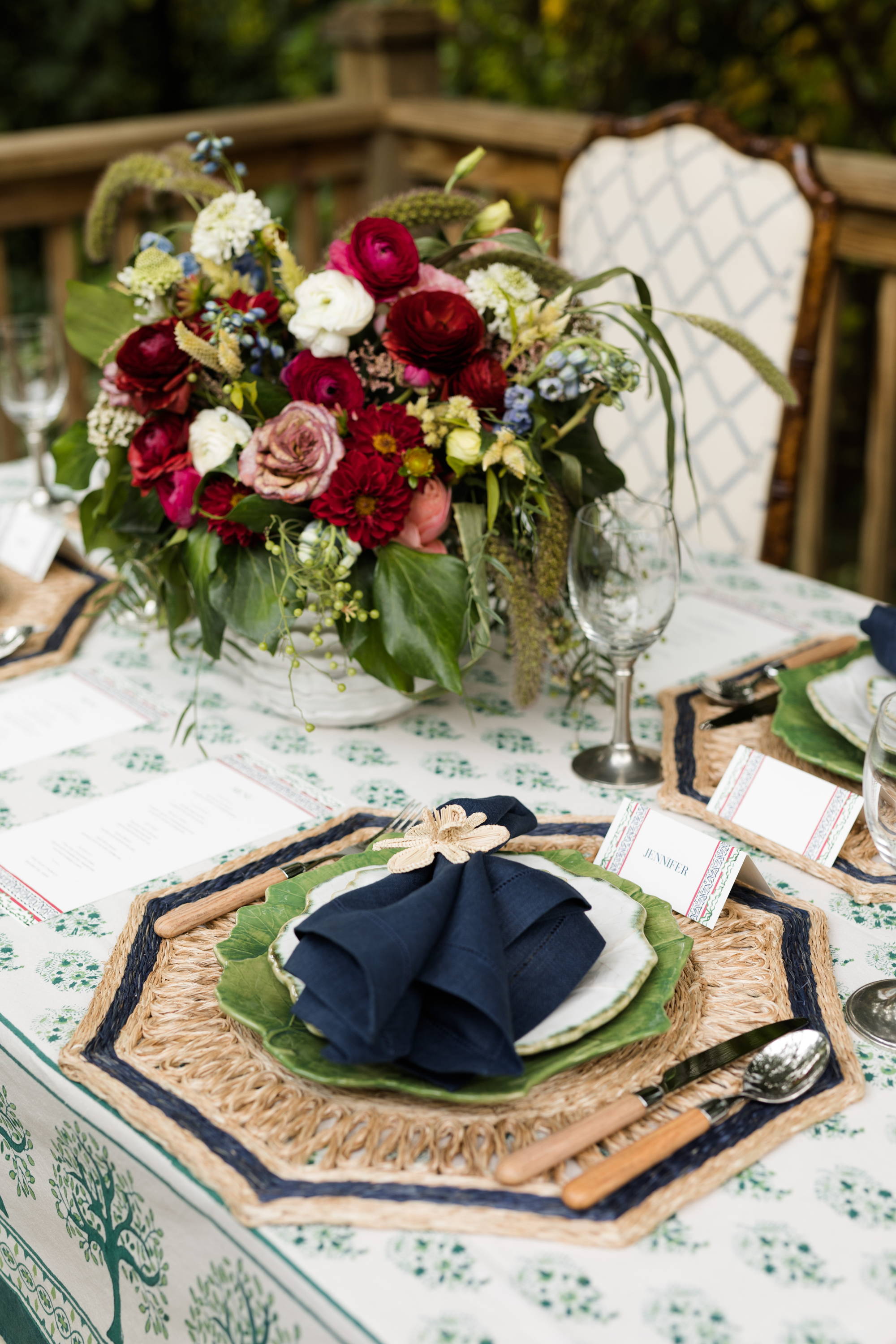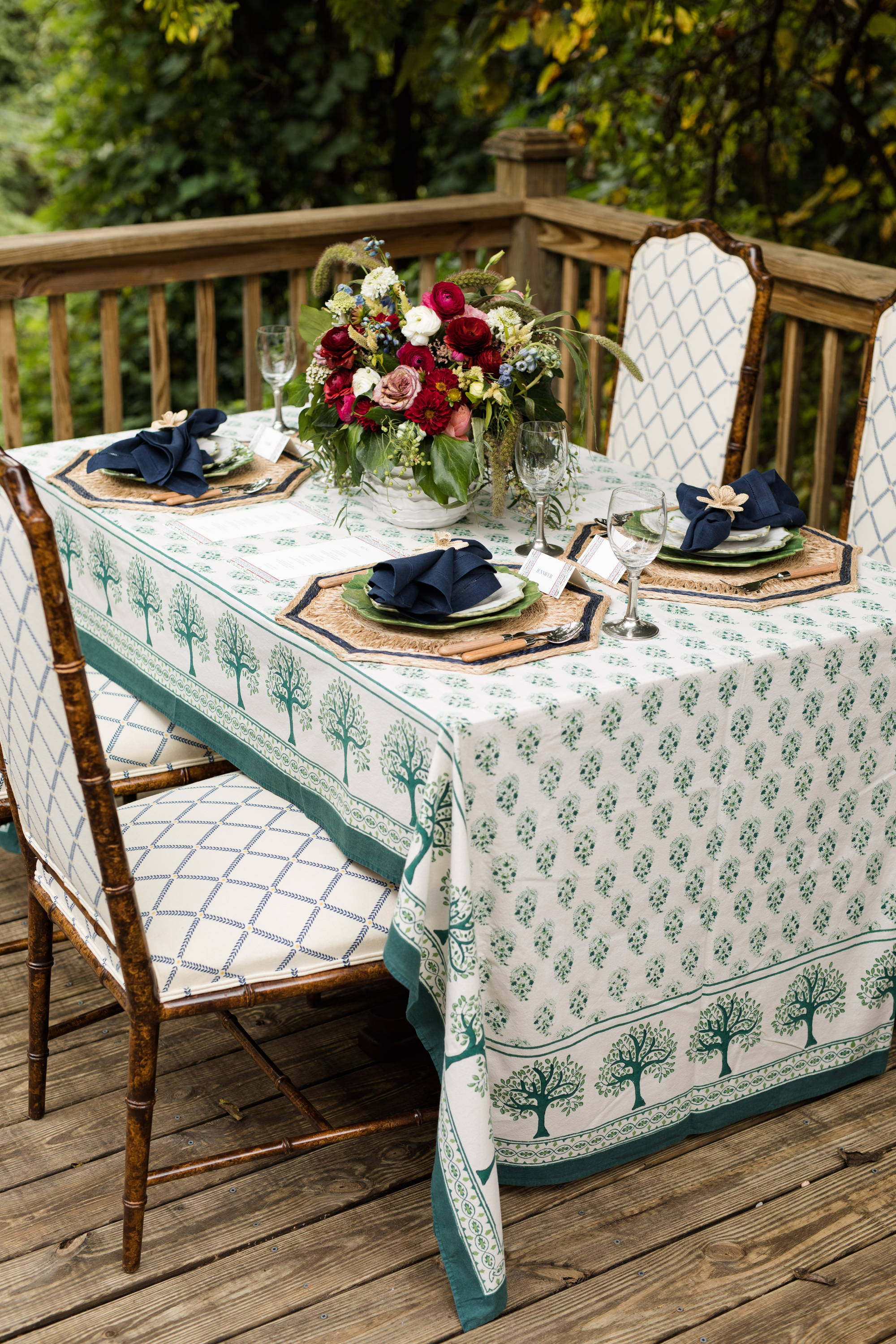 What is your home decor style?
Traditional mostly, but with a slightly modern twist, and a lot of blue and green! I like clean lines and not a lot of clutter, but I've forced myself to grab knick-knacks over the last couple of years to help fill in the spaces. I'm obsessed with books and I'm an amateur photographer, so most spots were filled with books and photos!
What are your current three favorite finds from the Freshly Set websites? 
I love the pieces I used on my Freshly Set table for a Fall look: Jade Paisley Tablecloth, Abaca Placemats, Festival Napkins in Navy and the Orchid Napkin Ring.
What is your entertaining motto?
Easy, relaxed and fun! Otherwise, why do it?
Who are your dream dinner party guests?
Our closest friends from college. We're mostly spread out around the country, so having everyone together for a night would be dreamy.
What makes a great guest?
A thoughtful conversationalist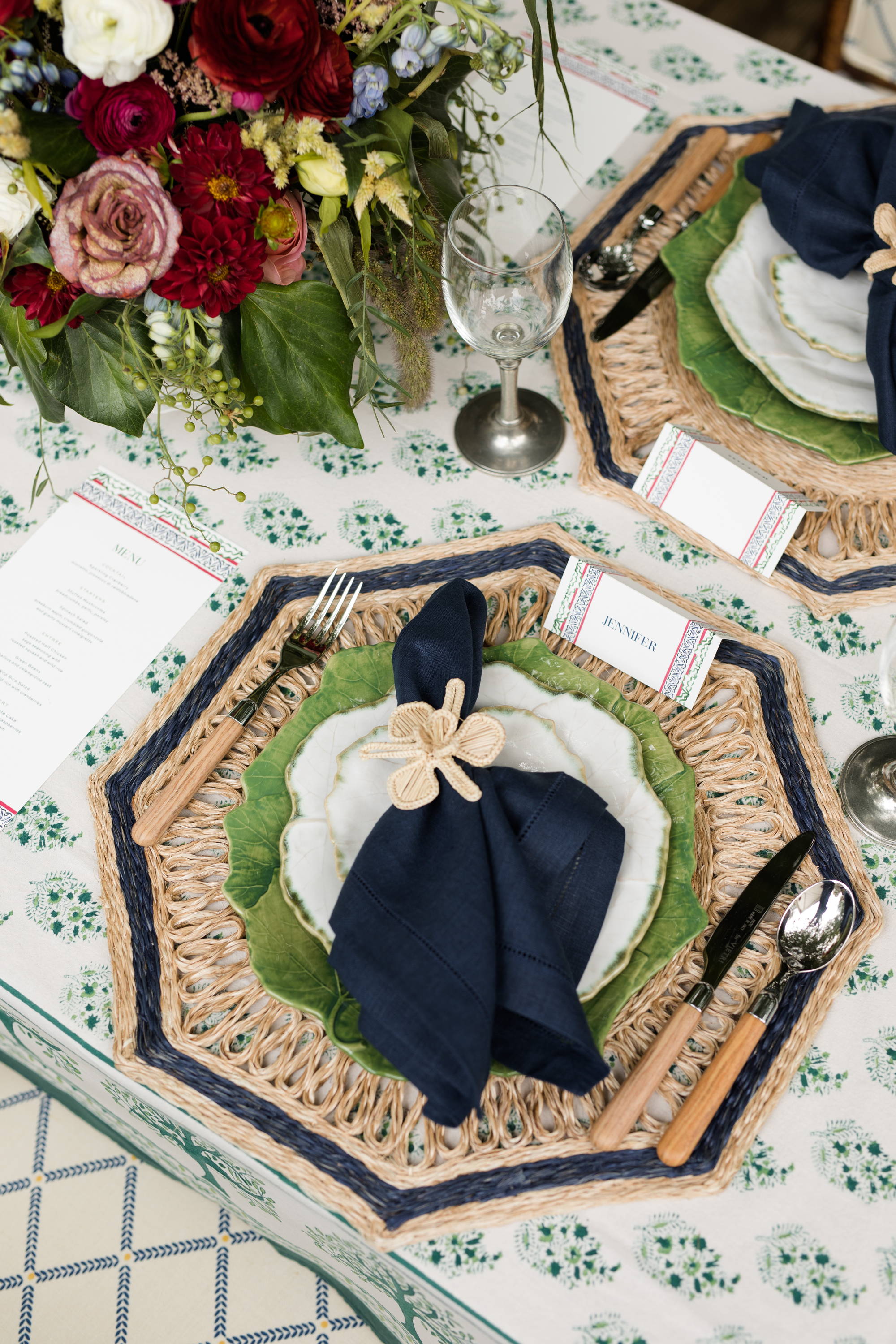 Your go-to hostess gift?
It depends on the hostess, but typically a candle, a bottle of wine or a set of stationery.
What is the most inspiring event you ever attended and why?
Dogwood Hill's two-day event series - Paper Petals and Plates Wedding Event and Etiquette & Entrepreneurship Luncheon. The evening event was completely stunning and allowed guests to enjoy cocktails and hors d'oeuvres while viewing our wedding collection along with tablescapes and florals from local top vendors. Myka Meier, an etiquette expert who owns Beaumont Etiquette at the Plaza Hotel in NYC, spoke on wedding etiquette for a gracious couple. The next day, we hosted a beautiful luncheon focused on the creative career woman where Myka discussed etiquette in the modern-day workplace. It was such a fun and engaging two days that left me feeling inspired by all the beauty I saw and the amazing women I met.
If you could invite six insta-friends to your next party, who would they be?
We have been working with our six Holiday Tastemakers all year on their collections, so it would be fun to have them around a table in real life!
Emily Hertz - @bornonfifth and @bowsand blue
Heather Chadduck Hillegas: @heatherchadduck
Paloma Contreras: @palomacontrerasdesign and @shoppalomaandco
Steele Marcoux: @steelemarcoux
Roxy Te Owens: @societysocial
Grace Mitchell: @astoriedstyle
Patterns: patterns or solids?
Patterns
Spot at the Table: Head of the table or in the middle?
Head of the table at home, but in the middle elsewhere.
Ideal dinner location: around the kitchen, outdoors, or a formal dining room
Outdoors.
Wine Glasses: Stemmed or stemless?
Stemmed.
Serving style: Buffet, family-style, or served
Buffet, because it's typically easier, but otherwise Family Style.
Lighting: Candlesticks, candelabra, or votives?
Votives
Seating arrangement: place cards or rules be dammed?  
Both, it depends!
Atmosphere: Fancy without Fuss or Thoughtful but Casual?
Both, it depends!
Music: classical, moody, upbeat, or fun mix
Fun mix (maybe a good 80s mix!)
Beverage of Choice: wine or cocktail?
Both!